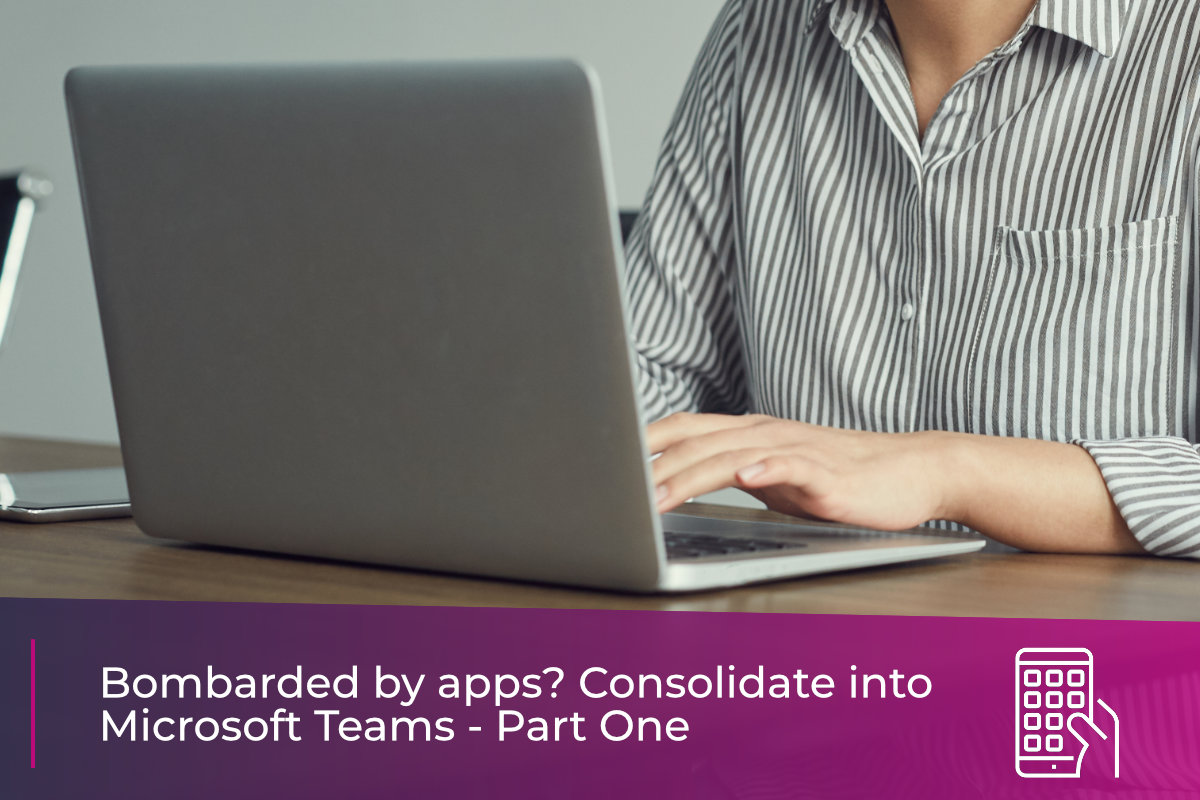 07 Nov

Streamlining Apps: Microsoft Teams – Part 1

Posted at 16:45h

in

Blogs

With an estimated 270 million users worldwide, Microsoft Teams has quickly grown from humble beginnings back in 2017 to become the world's foremost business collaboration and communication platform.   

Upon its initial launch as a replacement for the 'Skype for business' video conferencing platform, many sceptics doubted the success of Teams, viewing it as a niche offering with little mainstream appeal.  Fast forward a few years, and Teams now sits at the core of the Microsoft 365 product line, with a host of features and integrations making it a true 'all in one' platform.  Thanks in no small part to the Covid-19 pandemic, millions of businesses around the world have discovered the productivity-boosting power of the platform, and enjoy the flexible working arrangements that it helps facilitate. 

So what makes Teams so special?  What makes it the 'must have' collaboration tools for businesses of all sizes and sectors.  In this short blog series we aim to unpack the component features and functionality of this ground-breaking platform, to help you understand why it's so popular and the benefits it could bring to your business. 
Microsoft Teams Key Features – Groups, Teams and Channels
Before we get to grips with the more interesting capabilities it's important to understand the way the platform is structured.  Microsoft Teams lets you subdivide and partition collaborative endeavours into 'Teams' and 'channels.'  These act as a customisable framework for group projects, allowing you to share resources en-masse and provide a focal point for project-based collaboration.  
Teams
A 'Team' is a group of people who require access to a communal resource pool typically to carry out a business function or collaborate on a specific project.  When you create a Team within Microsoft Teams, 365 sets up a corresponding 'Microsoft 365 Group,' with a shared Exchange mailbox, SharePoint site and 'Plan' within Microsoft Planner launched in parallel.  
A new team can be based on an existing Microsoft 365 group, or you can choose to start from a blank canvas and assemble a group of individuals for an important project.  You can choose to make the team 'private:'  only selected individuals will have access.  Or, you can make it public, and extend access to everyone in your organisation. 
Teams can be created from the ground up, and can be customised with a wide range of apps (both native and third-party) to suit your project goals.  Alternatively, you can take advantage of a number of templates, which incorporate preconfigured 'channels' and apps designed to aid a wide range of business functions.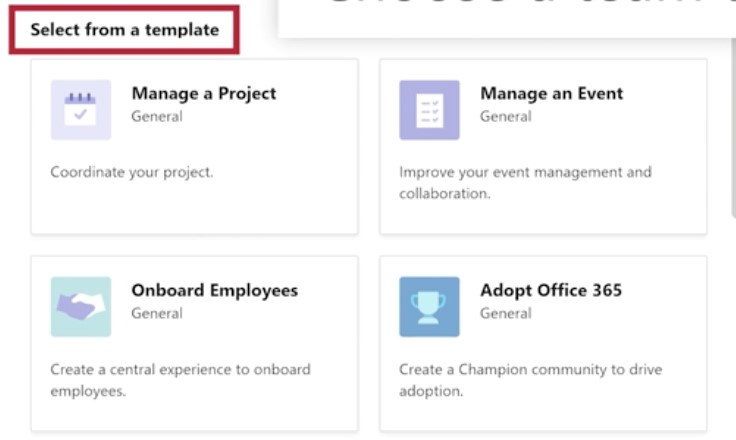 Teams can be configured however you choose, but many organisations choose to establish teams to reflect organisational structures.  You might want to create a team titled 'Business Development,' or 'Marketing' for example.
Channels
While a Team effectively acts as an umbrella structure for collaborative activities; whereas 'Channels' are where discussion actually takes place.  These provide the framework for collaboration, and help to focus discussion on more niche topics, goals or disciplines within the scope of the greater project.
Channels can be configured from the outset when setting up a Team, or added as dictated by the demands of a project.  Like a Team, a channel can be set to 'public' (everyone in the Team will have access) or 'private' (only those you specify will have access.
Establishing a channel within a Team, automatically configures a corresponding partition within the Team's related SharePoint site, and all the files relevant to a channel can be accessed via the file tab at the top of the window.

Channels can be customised by pinning project-relevant applications to the tabs section, and with over 700 to choose from your likely to find at least one pertinent to your project goals.  This integration is one of the most compelling capabilities offered by Microsoft Teams, so let's briefly look at some of the most useful apps that can be incorporated into Teams channels.
Microsoft Lists
Launched in August 2020, Microsoft Lists is an intuitive information tracking tool which can be incorporated into Microsoft Teams to bring key data into group discussions.  It features a number of handy templates designed to tackle a range of business processes, from employee onboarding and event scheduling to asset tracking and recruitment processing.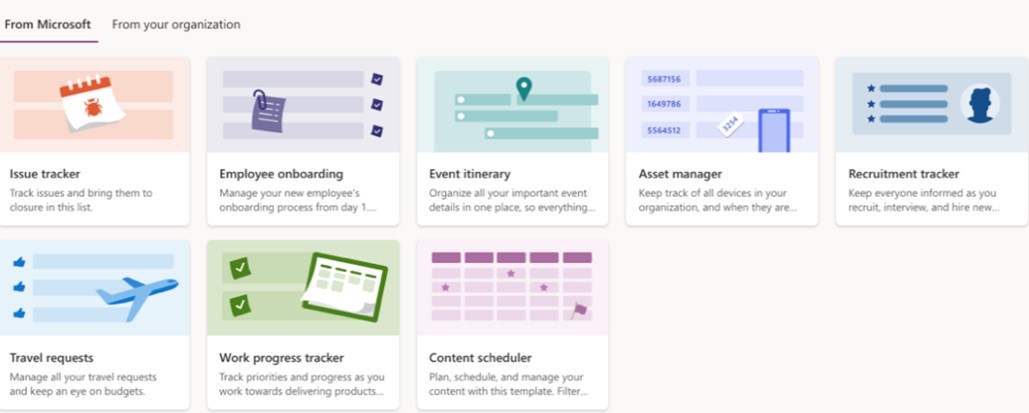 Data held within a List can be presented in different ways using preconfigured as well as customisable 'views.'  These are a great way to display abstract data in a way that makes it communicable and meaningful to your team.  It might be more useful for example, to view Event schedule data in a calendar format as shown below.

Lists can be created using pre-existing Excel data, and you can incorporate automation via the Microsoft Power Platform for enhanced workplace productivity.  Despite being a relative newcomer to the Microsoft 365 scene, Microsoft Lists is proving its worth, and has become one of the 'must have' Microsoft Teams app integrations.
Microsoft Forms
Microsoft Forms is a free survey generation tool that allows questionnaires, surveys, opinion polls and quizzes to be created and published in minutes.  A great way to test staff knowledge, quickly gather information and gauge opinions on any conceivable topic, Forms is an intuitive tool requiring no familiarisation that can easily be integrated into your channels. The Forms Teams app can be added as a channel tab for easy access, and surveys can be disseminated in various ways, including shareable links, email, QR codes and as embedded web parts.  A link to a survey for example can be copied and pasted into a channel's chat interface for maximum engagement as illustrated below.

Once your data has been gathered, Forms lets you examine findings in great depth and uses charts to better visualise the results.  There's also the option to open survey findings within Microsoft Excel for more granular analysis.
Power BI
Power BI ('BI' meaning 'business intelligence) is an extremely useful tool for converting key business performance data into meaningful and communicable business insights.  Using a library of 'connectors' power BI can draw data from a wide variety of sources, including social media sites, SQL databases, excel spreadsheets, Oracle databases and the likes of Salesforce.  Once the source data has been consolidated, the Power BI desktop app makes it easy to translate raw data into easily interpreted visualisations, with the ability to create visually appealing graphs charts, diagrams and data maps.
By attaching the Power BI app to a Team or Channel, you can position critical information right where it needs to be.  You could bring key profit and growth metrics to your Sales team, or position employee performance data in the relevant channel of your HR team to unify data and discussion like never before.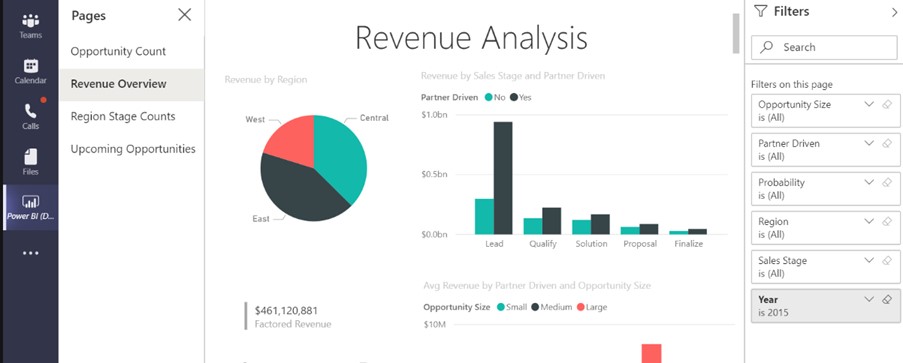 Conclusion
The beauty of Microsoft Teams as a collaboration tool lies in its ability to consolidate and structure group project work, bringing a myriad of tools and platforms under one roof and providing the framework for organised group discussions.
In the next instalment of this miniseries, we'll look at Microsoft Team's value as a unified communications platform, and explain how it offers the ability to bring together chat, video-conferencing and telephony for a slick, streamlined experience.