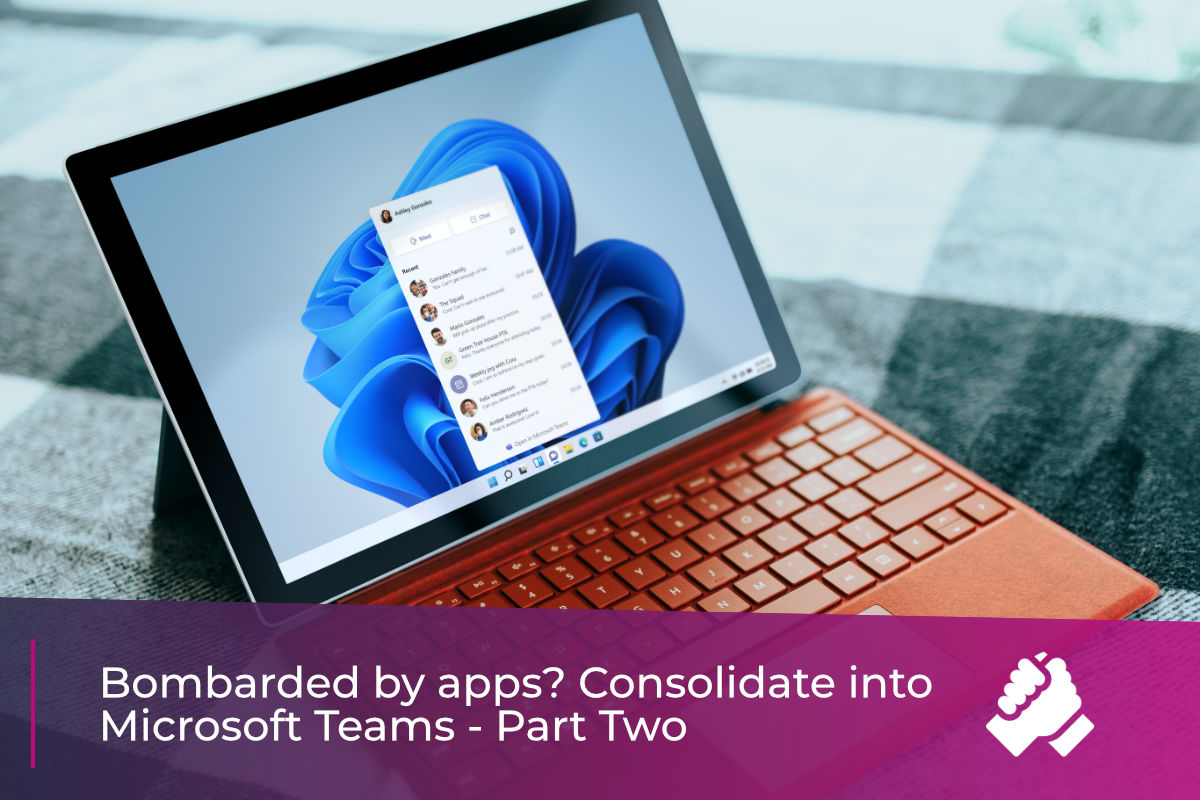 08 Nov

Bombarded by Apps? Consolidate into Microsoft Teams – Part Two

Posted at 09:39h

in

Blogs

Since early 2020 when the Covid-19 pandemic forced millions of us to work from home, countless organisations got acquainted with collaboration platforms which enable flexible working practices.  Among these is Microsoft Teams, a platform that his since risen to become the world's favoured business communication platform.  Featuring deep lateral compatibility with the rest of Microsoft 365, a host of unique, productivity-boosting features and compatibility with hundreds of third-party applications, it's not hard to see why the platform is used by over 1 million organisations worldwide.

In our previous article we looked at the basic structure of Microsoft Teams, plus a handful of the most useful app integrations.  Now let's examine the communication features that are so integral to the Teams user experience.
Instant Messaging
At the core of Microsoft Teams you'll find its instant messaging capabilities.  With the ability to initiate chats within Teams channels and the option to create standalone chats with a group of your choice, Teams allows you to initiate a chat thread for any project or objective.
We all know however, that lots of platforms feature chat functionality, so lets examine some of the features Teams offers to make instant messaging a more immersive collaboration experience…
Message formatting options
The chat function in Microsoft Teams lets you personalise your messages using a number of formatting options.  You can embolden or highlight text for greater emphasis, create bulleted lists, italicize text and more.  You can also mark a message as 'important' or 'urgent,' to draw your groups attention to a pressing item of correspondence.

The 'chat box' is for more than composing messages
The chat interface in teams incorporates a number of useful features as standard.
You can use it to send files into your chat thread, giving your team the opportunity to collaborate on a document in real time using the inbuilt co-authoring feature.  Any files you send into a chat will automatically be stored in the 'files' tab at the top of the chat interface for easy retrieval.
You can also schedule meetings directly from the chat box, and additionally functionality can be added in the form of app integrations.  The 'Forms' app for example can be added to launch quizzes and surveys directly into the chat thread.
Another useful feature is the option to share your screen to the chat thread.  Accessible from the top right of the chat interface (shown below), this is useful tool for when your group could use an instructive demonstration, rather than a long, complex written explanation.

An intuitive chat search feature
Occasionally a vital message or chat thread will get lost in the sands of time.  Fear not, as Teams makes it quick and simple to retrieve such items of correspondence.  Positioned at the top of the chat interface you'll find a search box that can be used to find messages and threads using keywords or the names of group members involved in the chat.
If that fails, a filtering option can be used to help you home in on elusive messages.  Apply date ranges, search for messages featuring attachments, messages where you've been tagged or filter messages to focus on specific Teams or Channels.

Route emails into your group chats
Teams offers a unique way to combine email with the real-time convenience afforded by instant messaging.  When you create a channel in Teams, you can request a corresponding autogenerated email address which can be used to send and forward emails directly into the chat thread.  When an email arrives in your thread, it and any attached files are automatically stored in the channel's files tab for quick reference and easy retrieval.  This helpful feature goes underused even by long-time users of Microsoft Teams.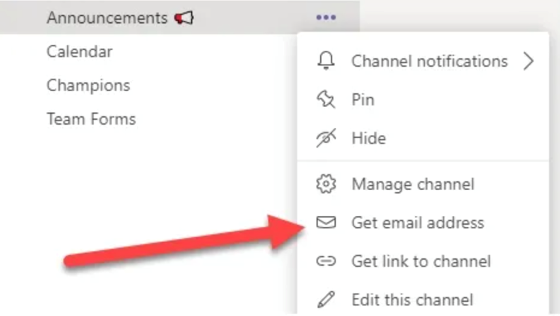 Video Conferencing
With support for up to 1000 active meeting participates, and an incredible 10,000 in 'view only' mode, Teams's impressive video conferencing capabilities are often cited as a pivotal reason for the platform's adoption.  So what are some of the most compelling reasons to make Teams your video conferencing platform of choice?
Host meetings with members of your organisation or external parties
Teams provides multiple options for the holding and scheduling video/audio meetings.
You can pencil in a meeting via the calendar app, located at the side of the Teams window.  A handy tool called 'scheduling assistant' can be used to find a time when all attendees are free to participate.  For urgent meetings, Teams offers the ability to launch meetings with immediate effect via the 'meet now' buttons which can be found within Teams channels as well as within chat threads.
You can invite anyone to a Teams meeting, even individuals outside your organisation who aren't Microsoft 365 users.  To do this, all you need is their full email address, and Teams will forward them an invite link through which they can view your meeting.
Chat, screenshare, share files and collaborate on 'virtual whiteboards'
The meetings experience in Teams is so much more than talking into a webcam.
Any meeting you launch will feature an attached chat feature.  This can be used to share relevant files as well as thoughts or concerns as the audio-visual meeting progresses.
Speakers can also share their screens with other attendees to help convey a message via a practical demonstration.  This feature is accessed via the main meeting control panel as shown below.  You can also use this button to share other content, including PowerPoint presentations.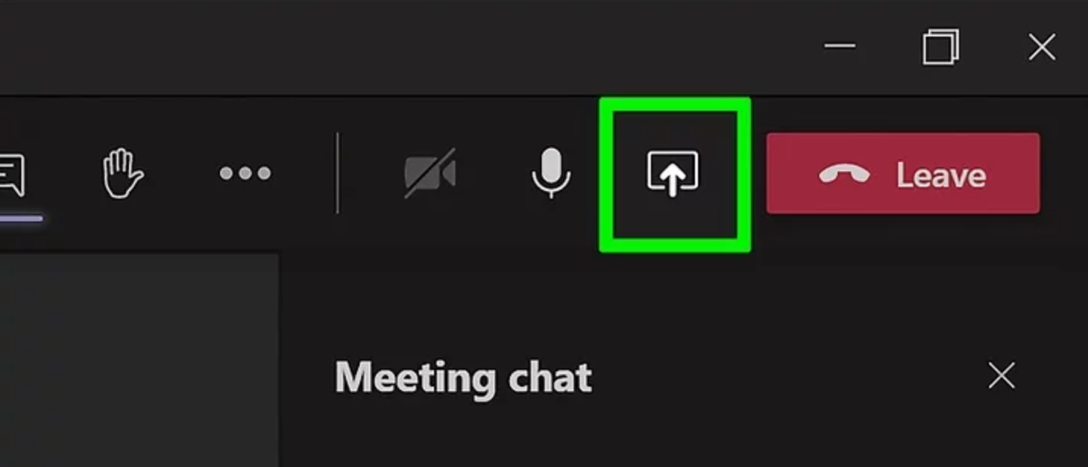 Another way meeting attendees can contribute their thoughts in a collaborative manner is via integrating Microsoft's intuitive whiteboard app.  This essentially acts as a digital version of a traditional whiteboard (without some of the practical limitations), and provides a free-form digital canvas for the sharing of ideas.

Review your meetings post-event with 'Meeting Recap'
To help ensure meetings are meaningful and productive, Teams gathers shared files, meeting notes, attendance data, transcripts and recordings in one place to make reviewing your meetings effortless. To access these resources, navigate to the meeting entry in your Teams calendar after the event, and you'll find everything you need in one place.  Remember to ensure however that transcripts and recordings are activated during the meeting if these are features you wish to take advantage of.

Hosted VoIP – Microsoft Teams Phone
It's widely known that Microsoft Teams offers video conferencing and chat functionality.  What's less known is that the platform can also function as a full-featured enterprise phone system.
Dubbed 'Microsoft Teams phone,' the service is available to most Microsoft 365 customers for an additional monthly subscription fee, with users on the 365 E5 plan enjoying the service at no additional charge.
So how does it work?
Teams Phone integrates phone system functionality into the Microsoft Teams interface, and allows MS Teams to act as a gateway to a feature-rich, hosted VoIP phone system.  Additional hardware is optional: you can use existing devices (laptops, desktops and mobile phones) to make and receive calls using your business's main contact number.
Carry your phone system with you
Customers, partners and suppliers will have no idea you're taking a call outside the office.   Teams phone offers all the features of an on-premise PBX without the limitations of fixed infrastructure.  Leverage a single contact number and transfer, forward and hold calls just as you would with a traditional phone system.
Handle high call volumes with ease
Teams Phone comes packed with what are sometimes referred to as 'call centre features.' These take the strain out of handling high call loads, making life easier for your team and easing the frustrations of inbound callers.  The 'auto attendant' feature helps route inbound calls to the right department every time, and with the ability to incorporate 'self serve' options you can decrease the workload of call handlers.  The 'call queue' feature lets you share the inbound call load among members of your team, and the 'call park' feature lets you temporarily suspend a call when you have to change devices.
Feature- heavy, infrastructure-light
Using 'softphones,' Microsoft Teams Phone is compatible with the devices you already use to access Microsoft Teams, and there is none of the cabling infrastructure and PBX servers associated with legacy phone systems thanks to cloud-hosting.  Teams-compatible desktop phones are available to make the experience more akin to a traditional phone system, but with the added benefit of video conferencing and chat functionality for a truly unified communication experience.
Conclusion
Combining intuitive instant messaging, feature-rich video conferencing, effortless file-sharing, the ability to incorporate your favourite apps and services, plus the option to integrate your business phone system into the interface, Microsoft Teams truly is a one-of-a-kind communication platform.  So if you're still using a vast array of separate applications for your business communications, why not supplant the clutter with the platform that truly does it all: Microsoft Teams.