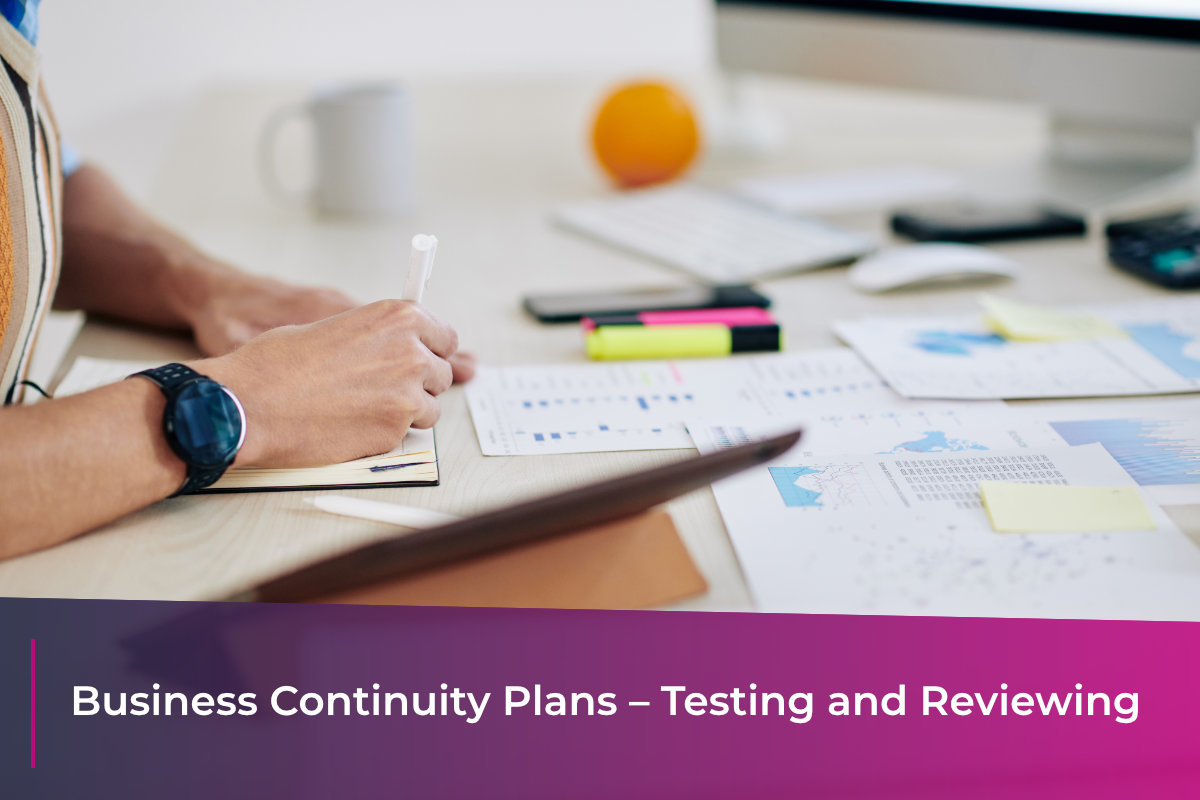 08 Jun

Business Continuity Plans – Testing and Reviewing

In the previous article we established what a Business Continuity Plan is and how to write one, but that is only the halfway point – don't wait for disaster to strike to see whether the plan can stand up to scrutiny or not. Rigorous testing is essential.

A controlled test offers the opportunity to learn about the plan, identify gaps and improve it where necessary.

It is frustrating, we know, but you need to try your best to break the plan. Make each test as plausible as possible, something that could actually happen, but in an extreme scenario too. Your plan shouldn't simply be good enough – it needs to provide you with the confidence that it can take the heat if and when the moment comes.

Testing should be conducted periodically, usually three times a year, but if you make changes to the plan regularly then a test should be conducted more often than that. Or if, for example, your staff turnover is particularly high in the wake of the pandemic, you may want to conduct them more often to ensure everyone is educated as to their individual roles.

Different tests include structured walk throughs of scenarios referred to as 'tabletop' exercises – a table-top exercise involves a senior member of the team dissecting the plan and breaking it down to be sure that every part of the organisation is represented.

It is also highly recommended, but not necessarily essential, to conduct evacuation drills. Knowing that these drills work could be the difference between a safe team and one potentially in harm.

As silly as the process sounds, it is recommended that once a year – at minimum – you role play a disaster, creating an environment that, to the best of your ability, simulates that of a disaster, to involve everything and everyone that would be part of that process every day.

Doing this will give you a clear depiction of whether you will be able to continue to some semblance of normal capacity. This isn't an exercise to catch people out – making them better and more prepared is the aim.
Review and improve your Business Continuity Plan
By this point you have put a lot of effort into creating and initially testing a Business Continuity Plan. Once having done so, many organisations let the plan sit there waiting for a disaster, spending extra time on more critical tasks. It is understandable but not the best way of doing things, because this will allow plans to go stale and become useless to you when they are needed.
Tech is constantly evolving and your team changes just as much so therefore your Business Continuity Plan needs to be updated too. Be sure you are bringing key people together and that everyone knows their role in the event of a disaster.
This is a lot to take onboard so if you need any help get in contact with our expert team and we will help you develop the right Business Continuity Plan for your business.
Connecting you to the modern world
Since our conception back in 2005, at Vostron we have operated under a series of predetermined guiding principles: agility, people, and approachability. With those principles adopted wholeheartedly throughout everything that we do, along with our progressive approach in helping our clients to achieve their business goals in the most cost-effective and secure way possible, we are proud to say that we have earned the trust of a loyal customer base across the UK from our home in Southampton. Please don't hesitate to get in contact to find out how we can help you!