Fast, reliable connectivity for small and medium-sized businesses
Business parks and multi-tenanted buildings offer a host of benefits for SMEs or satellite offices, providing an affordable workspace and wealth of shared resources.
Tenants reduce their overheads by sharing the cost of essential facilities, with building management, reception areas, meeting rooms or visitor parking provided as a centrally managed service.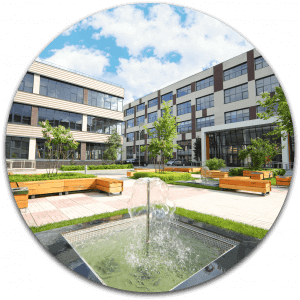 Our Business Park Service delivers similar efficiencies by segmenting the cost and capacity of robust, high-speed internet connectivity. We install fibre-optic connections to the heart of your building or campus, and distribute fast and reliable services over a fully-managed network. Offices receive guaranteed internet access on symmetrical connections. With Vostron's secure IP telephony service, off-site hosting, and managed network hardware, we provide a complete communications package in one, fully-managed service.
Getting started is simple:
Same-day set-up for internet and phone

Seamless migration between offices

Upgrade internet connections in affordable increments, from 10 Megabits to 1 Gigabit per second

Add handsets to your phone system, as and when you need them
Whether you are a tenant or a site manager, we would love to hear from you. One of our experienced staff will be happy to explain the benefits Vostron can offer Business Parks and the services they can receive. Let us help you build a powerful internet network for you and your business park.