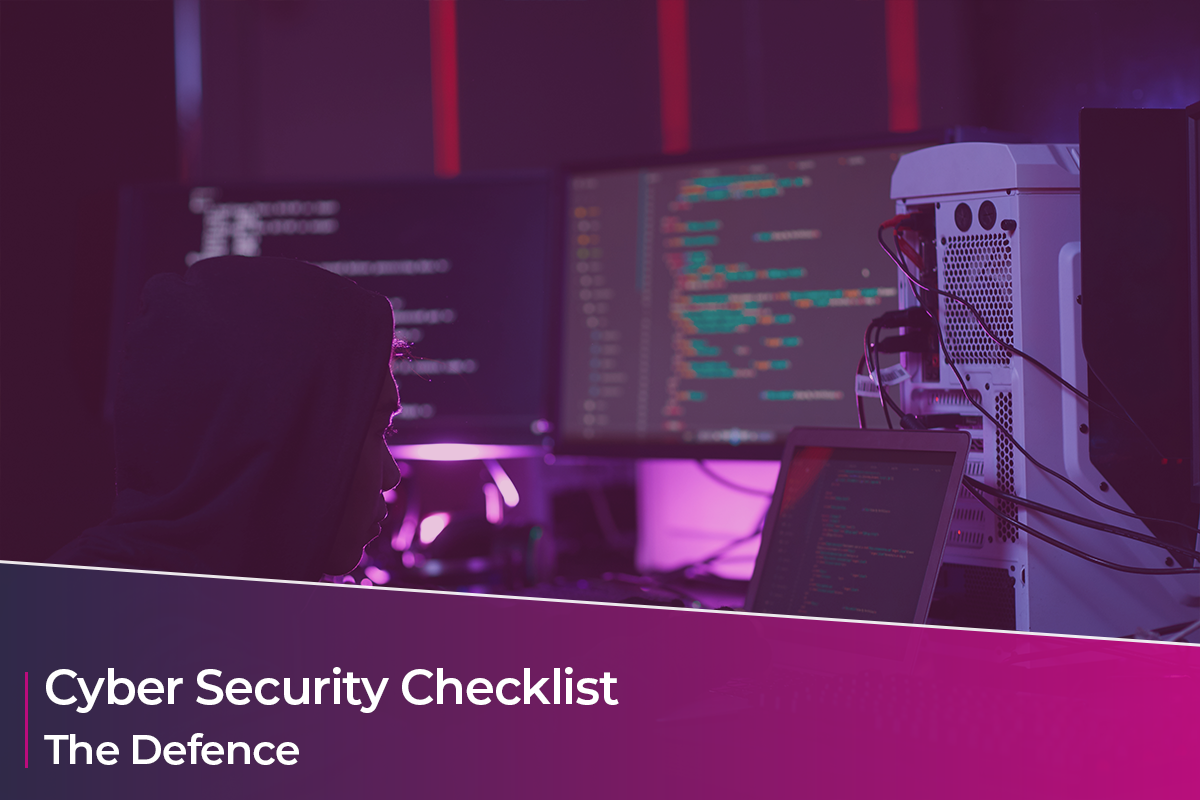 12 Nov

Cyber Security Checklist – The Defence

In the previous article we looked at some of the most common threats you and your team face from cyber criminals, and we concluded that, due to these threats, cyber security should take top spot in your list of business concerns.

In the following article we will make a checklist to help you on your journey to cyber security.
Your cyber security checklist
1.   Documented Policies
2.   Acceptable use Policy
3.   Modern and updated software and tools
4.   Frequent employee training
5.   An effective data backup procedure.
These are the basic steps to a cyber security checklist; we will now explore them in more detail.
1.     Documented policies
Documented policies are very important. Having policies that are clear to understand and are known and signed by all makes your organisation more secure from the get-go. The policies must outline the security guidelines and obligations of employees when using the company systems or networks. The policies enable you to be certain that your employees observe adequate security measures and procedures at all times – with a signature next to it to be sure that they have read and understood what is expected of them, and if they don't there will be consequences. You can outline this in the policy.
2.     Acceptable use policy
A cyber security checklist should include an acceptable use policy. An acceptable use policy will consist of rules regarding the use of your organisation's assets or data. Having this in place will ensure that your team are only using the tools at their disposal as instructed and not in such a way that could jeopardise the cyber security of your business. You should make all new employees – and anyone with access and use of the system – read and sign this policy. By signing your users are agreeing to use the information at their disposal and the systems they reside on as securely as possible.
3.     Modern and up to date software and tools
Every business should use modern software and tools wherever possible. Using up-to-date software is vital to ensuring your business is secure. Modern software and tools are developed with the latest cyber security dangers in mind, whereas using legacy operating or software systems can inadvertently be making your business a target. Don't jump to conclusions – modern up to date software doesn't necessarily mean that it is entirely secure (there are always vulnerabilities and new ones being developed every day) – this is why it is essential that you have a patch management programme too. Take advantage of patches released by vendors because they will not only improve the software, app, or programme but also bolster its security capabilities too.
4.     Employee education
You must include employee training in your cyber security checklist. The right training will provide employees with the skills to securely navigate your systems using the data and the system as they see fit. Taking it one step further, your team will be more likely to find, assess, and report a security issue if they happen to come across one.
This education should include lessons on how to; secure their emails, cloud accounts, personal devices (should they be being used for business), and information systems. Education around Phishing emails in particular is important – they need to know how to identify one and the actions they should take once having received and identified it.
5.     An effective data backup policy
As you know, just because you have the most powerful security solutions and procedures in place, there is no guarantee that you will not be a victim of a cyber attack. So, it is best to be prepared for the worst-case scenario too. Businesses need to outline and enforce an effective disaster recovery policy. In the disaster recovery plan different parts of your business will have a different set of actions to take in the event of an attack – developing these 'personal' disaster recovery policies will put you in good stead to containing the attack. By continuously updating and improving your disaster recovery policy you employees will know their roles to complete in order to ensure a speedy recovery of critical data, networks, or computer systems.
Sticking to this checklist will allow you to feel slightly better about the security of the technological landscape in your workplace.
Cyber security guaranteed
Since our conception back in 2005, we at Vostron have operated under a series of predetermined guiding principles, agility, people, and approachability. With those principles adopted wholeheartedly throughout everything that we do, along with our progressive approach in helping our clients to achieve their business goals in the most cost-effective and secure way possible, we are proud to say that we have earned the trust of a loyal customer base across the UK (from our home in Southampton).
Please don't hesitate to get in contact to find out how we can help you!