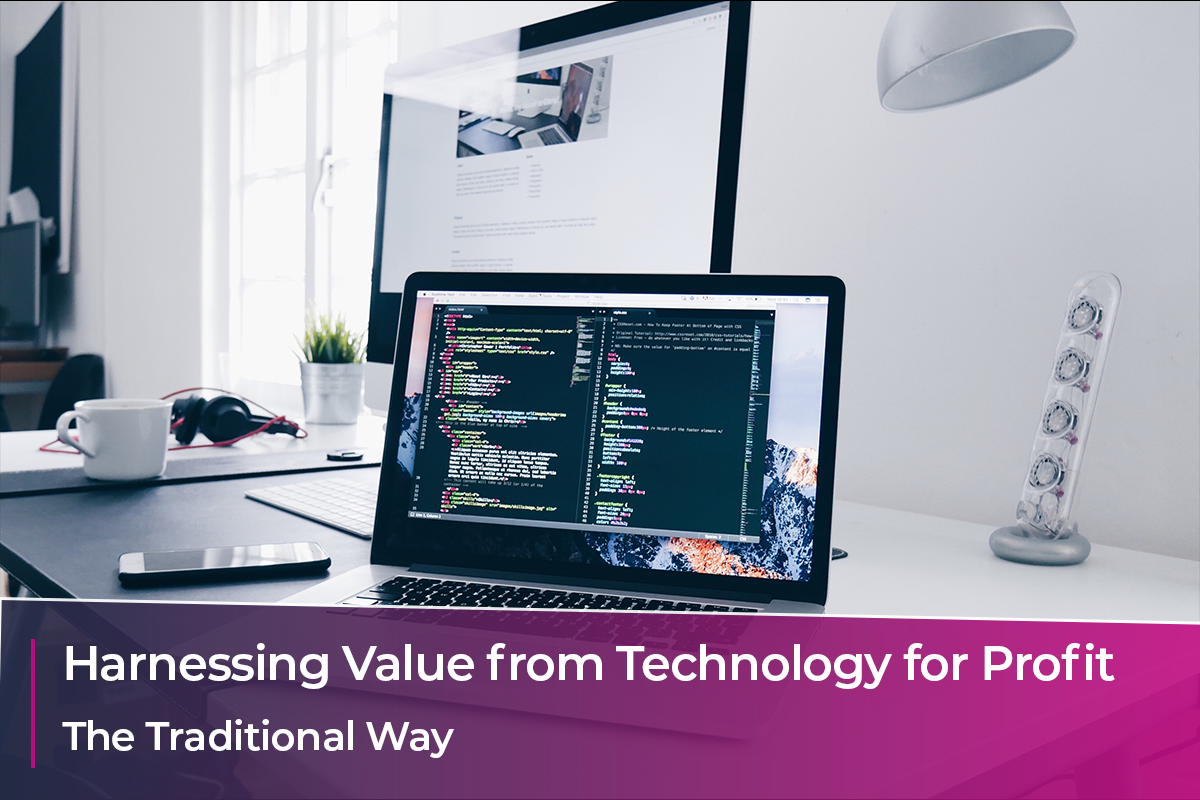 13 Jan

Harnessing Value from Technology for Profit | Part One

The modern world of work has changed over recent years, mainly due to Covid-19 but also due to rapid technological advancements over the last decade. Most businesses – be it because they were forced to, witnessed others succeed, or discovered small failures in their own systems – have felt a drive to change from their traditional ways of work to a modern working, and some have already started the transition.

The main change to the way we work has been with a transition to an at least partial remote working team, but this decision was taken on a whim by many in an attempt to simply survive the pandemic. It is likely that, in the rush to implement these new ways of working, things weren't done as efficiently as possible; uncertainty around new technology is rife at the moment across all business sectors. IT companies commonly deploy tech for you and then leave you lost at sea not knowing what to do with it or how to manage it, making things even harder for business owners in this already difficult process.

Businesses now need to take a step back. The days mid pandemic of us 'taking each day as it comes' is over, and it is time to review the long-term future of their IT.

For many businesses the IT that their teams are using daily isn't aligned to their working processes, and some are forced to tolerate cumbersome workarounds and inefficient ways of working through no fault of their own.

These changes often don't happen all at once, be it through fear of change or a cautious approach. These changes are normally gradual – leaving some of your IT system in the past and some excelling towards a prosperous future, but both need to be working in unison.

Let's take a look at the way teams are having to work without modern technology in their organisation.
Vital business functions – The traditional way
Communication
With the rapid rise in remote working that every sector has experienced, the ways we communicate have changed – many now use Microsoft Teams and Zoom. These systems have left the telephone slightly surplus to requirements – business owners are asking, "How can we remain professional on the business number or direct dial?" because the last thing you want is to appear unprofessional because of re-dial. If you have a traditional PBX phone system that sits in the corner of your office, then it is time to take a step into the 21st century – a dated phone system is guaranteed to prevent your business from achieving your goals.
Collaboration
Again, with the way we work changing to a remote one, the ways we collaborate are also evolving. Some business owners haven't made changes to the way their team collaborate, and some are still using Email as their main form of collaboration – this is counterproductive. It can take hours to get your message across in Email and if your team are all working on the same document there will potentially be many copies of it everywhere – causing confusion as to which is the latest copy. There are modern methods of collaboration that will allow your team to work together from anywhere in the world – in real time!
Workflow process
Having a well outlined workflow process is essential, as you must know what is happening and when. The modern workplace demands that our workflows are as efficient as possible, but some businesses are not achieving this. Some are still wasting valuable time by using their skilled team members to complete mundane tasks – because they don't want to employ someone new with that task as their primary role, they think they have no other choice. In the modern age there are tools available that allow your team to continue with the skilled tasks that they were employed to complete whilst placing the mundane tasks in the hands of technology.
Document management
Old file servers don't allow a modern team to work as effectively as it should – for example, old file servers require employees to manually send documents to one another, whereas modern technology irradicates this laborious and time-consuming task, in turn allowing your team to be more productive with their time.
We will go into more detail of the modern alternatives in the next article, all of which will allow you to remain compliant, secure, professional, contactable, and – above all – efficient, at all times.
Connecting you to the modern world
Since our conception back in 2005, at Vostron we have operated under a series of predetermined guiding principles: agility, people, and approachability. With those principles adopted wholeheartedly throughout everything that we do, along with our progressive approach in helping our clients to achieve their business goals in the most cost-effective and secure way possible, we are proud to say that we have earned the trust of a loyal customer base across the UK from our home in Southampton. Please don't hesitate to get in contact to find out how we can help you!