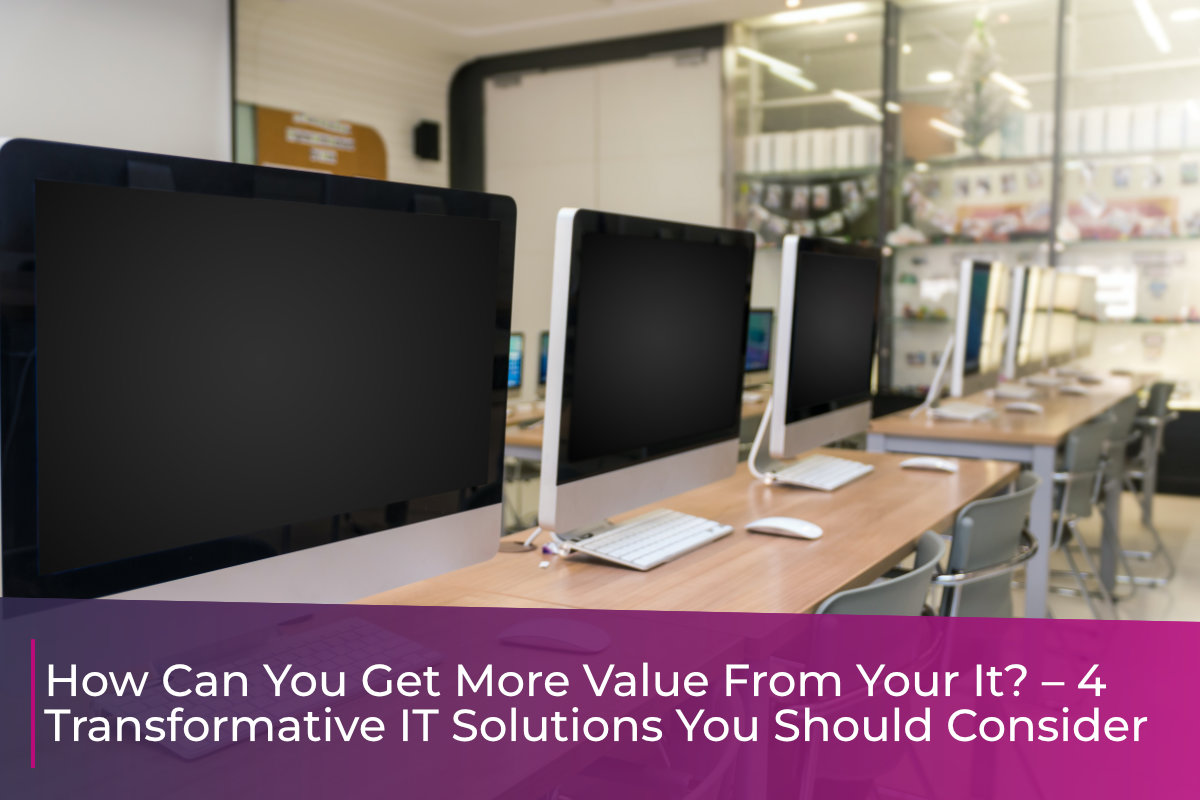 09 Dec

How Can You Get More Value From Your It? – 4 Transformative IT Solutions You Should Consider

Posted at 14:54h

in

Blogs

As we outlined in our previous article, due to the current economic climate, businesses are under great pressure to make efficiency savings and boost productivity in order to remain competitive and resilient.  Fortunately, the modern technology marketplace offers a wide range of solutions to achieve these aims, from ground-breaking automation and AI platforms to a host of options to facilitate remote working: at prices even the smallest businesses can afford. 

 

However, with so many options available, it can be hard to know which solutions to incorporate into your business's future tech strategy.  To help you on your digitalisation journey, here's what we believe are 4 of the most compelling, high-value IT solutions that all businesses should at least consider in 2023. 

 
Hosting business resources in the Cloud
Cloud hosting is the practice of running software programmes or other business resources in the cloud – a worldwide network of computing resources and software accessible via the internet.   
In the past, running a website, email service or business application meant acquiring a server and hosting the setup in your local network.  Today, all manner of business tech projects can be coordinated and hosted in the cloud via a range of cloud service providers.  These providers offer software, development platforms, computing resources, storage and more via a network of data centres located around the world.   
So what's the advantage?  Running an on-premise server can be a somewhat costly affair, requiring round-the-clock heating and cooling, ongoing maintenance and perhaps even enhanced physical security measures.  That's before you've even factored in hardware acquisition and eventual replacement costs.  Because data centres can house hundreds of thousands of servers, heating/cooling, maintenance and security costs can be distributed among the many site's many tenants, resulting in a more cost-efficient way to access computing resources than local hosting.  Cloud Services are also commonly offered via monthly subscription-type billing.  This makes it easy to provision resources closely in line with business demand at any given time, resulting in leaner and better-value IT spending. 
Microsoft 365
Used by over 1 million businesses worldwide, Microsoft 365 is the world's favoured workplace productivity suite.  Since its launch as the cloud-hosted successor to the famous 'Office' product line, Microsoft 365 has evolved extensively over the last decade and now includes a wide range of tools and platforms designed to enhance workplace productivity and enable seamless collaboration. 
Some of the suite's key platforms include: 
Microsoft Teams
'Teams' is the renowned communication and collaboration platform that sits at the heart of the Microsoft 365 experience.  Providing an intuitive chat interface, shared document storage (provided through SharePoint integration), live document co-authoring, powerful scheduling capabilities and a class-leading video conferencing experience, it's no wonder Teams has grown to become the world's favourite collaboration app. 
SharePoint
SharePoint is a collaboration platform designed as a resource hub for group projects and business departments.  With its highly-customisable architecture, SharePoint sites can act as data and document depositories or as informative intranet pages designed to keep employees informed. 
Outlook
Outlook is more than just an email service: it's a fundamental component of Microsoft 365 that features extensive cross-platform integration with the likes of Teams, Planner and To Do.  With its powerful and user-friendly calendaring capabilities, the option to incorporate workflow management platforms and the ability to apply automation, it's easy to understand why Outlook has over 400 million users worldwide. 
Comprised of dozens of Microsoft platforms and with support for hundreds more third-party apps and services, it's easy to configure Microsoft 365 to suit your business's needs and processes.  The suite is offered on a per-user subscription basis, with packages at varying price points to accommodate a wide range of IT budgets. 
Hosted VoIP
By the end of 2025, BT Openreach hopes to have finalised its shutdown of the UK's copper-based telephony infrastructure.  This means that current telephony products which operate on this infrastructure (such as ISDN) will soon become unavailable, pressing the need for businesses to adopt futureproof VoIP (voice over internet protocol) alternatives. 
Cloud-Hosted VoIP phone systems present a convenient, cost-effective alternative to the legacy phone systems of yesteryear.  Thanks to the cloud, hosted systems are location-independent, allowing you to use the phone system anywhere so long as you have a reliable internet connection.  Most systems incorporate a wide range of useful PBX features as standard, including call queuing, auto-attendants and call recording, and many even allow integration with other communication media such as email, text messaging and CRM interfaces: a practice known as 'unified communications.'   
Unlike traditional PBX phone systems, cloud-hosted VoIP systems require very little (if any) investment in physical hardware.  Using 'softphones' (software programmes that provide phone-like functionality) hosted VoIP systems can be accessed via most modern internet-capable devices, including portable devices such as laptops, tablets and mobile phones.  No expensive hardware means no extra maintenance, and with subscription-based pricing and highly affordable call bundles available, hosted-VoIP almost always represents excellent value for money when compared with legacy systems. 
Managed Security Services
Balancing data security obligations with the daily pressures of running a business can often feel like an impossible task, and with the ever-growing cyber threat landscape it's a challenge that is only likely to get harder. 
Seeking the help of a managed security provider to help bolster your date security defences will give you more time and energy to focus on running and growing your businesses.  Such providers will be able to audit your network to root current vulnerabilities, and offer a range of managed security tools to keep intruders at bay, including managed firewalls and anti-virus.  Many providers also offer 24/7 vulnerability scanning, with platforms that offer early detection capabilities allowing cyber-attacks to be thwarted in their early stages.  While it is possible to implement similar cyber protection in-house, employing-in the expertise and paying for the numerous security tools is likely to prove cost-prohibitive compared to outsourcing.   
With data breaches often inflicting thousands of pound of immediate financial damage, taking the necessary steps to avert a breach is always a shrewd course of action.  An experienced managed security provider can help you plug gaps in your network and could even reduce your monthly spend on IT security. 
Connecting you to the modern world
Since our conception back in 2005, at Vostron we have operated under a series of predetermined guiding principles: agility, people, and approachability. With those principles adopted wholeheartedly throughout everything that we do, along with our progressive approach in helping our clients to achieve their business goals in the most cost-effective and secure way possible, we are proud to say that we have earned the trust of a loyal customer base across the UK from our home in Southampton. Please don't hesitate to get in contact to find out how we can help you!