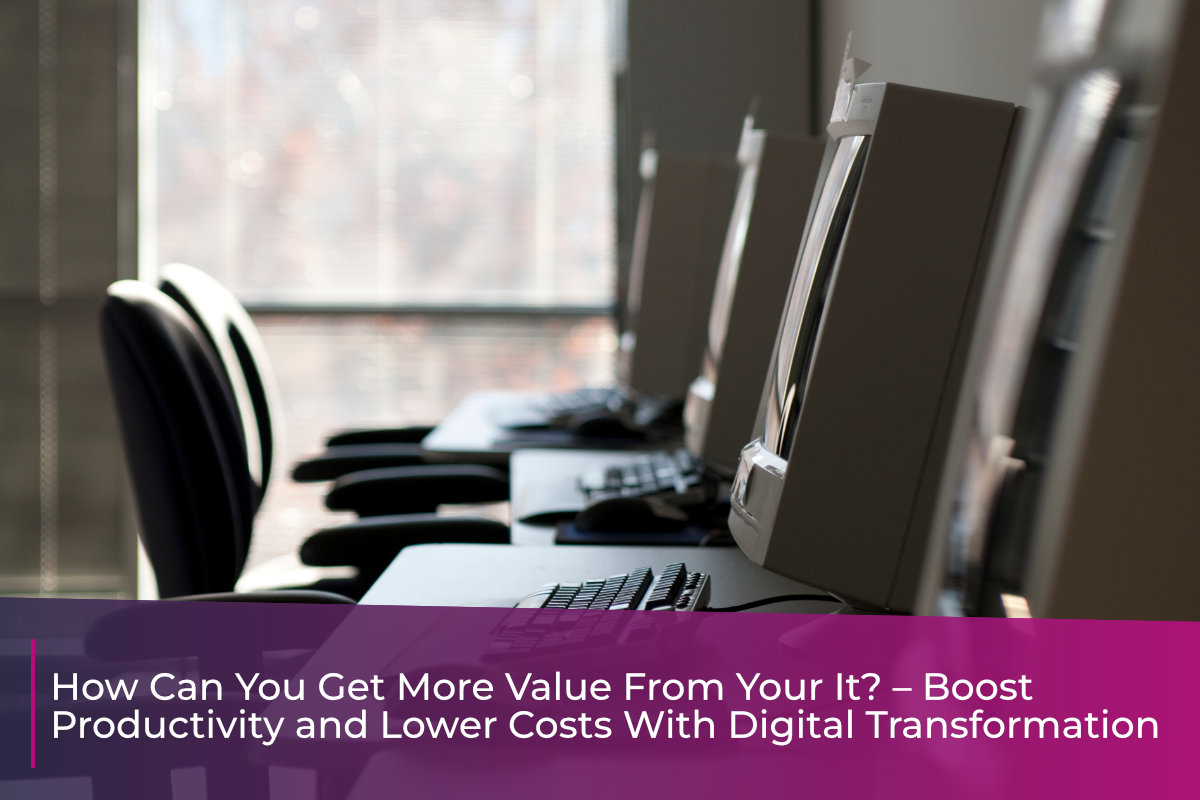 09 Dec

How Can You Get More Value From Your It? – Boost Productivity and Lower Costs With Digital Transformation

Posted at 14:44h

in

Blogs

It goes without saying, that we are living through turbulent economic times.  With high energy and fuel costs weighing heavily on the minds of beleaguered UK business owners, many are expecting the situation to worsen before it improves, with a reported 72% of businesses making preparations for an imminent recession. 

 

While we all hope for sunnier economic climes, adversity often breeds innovation, and this is true for the many businesses which over the past few years, have embraced transformative digital technologies to become leaner, more efficient and more resilient.  The business technology marketplace has shifted beyond all recognition over the past 2 decades, with the cloud making game-changing, revolutionary technologies available to even the smallest of businesses.  

 

2023 may be an opportune time for your business to kickstart its digital transformation, a process that could lower your IT expenditure, reduce operational overheads and give you more time to invest in revenue-boosting activities.  Let's explore how these objectives can be achieved by considering the common hallmarks of value-adding IT solutions. 

 
Flexible Pricing
IT decisions were once defined by serious long-term financial commitments, involving substantial capital investment in servers and networking equipment for solutions that (hopefully) would offer good return on investment over time.  Unfortunately, the rigidity of this approach would often leave some services overprovisioned – resulting in poor ROI – and some under provisioned – leading to inevitable performance bottlenecks. 
Thankfully, the cloud makes matching resource provision to point-in-time demand simple, with widespread use of subscription-based pricing.  If you need to set up a relational database, you can acquire the optimum amount of computing power for your requirements and scale up resources when required.  If you want to provide access to enterprise software, monthly subscriptions make it easy to provision access for an exact number of end users, with the ability to remove or add accounts as demand dictates.  The result is more cost-efficient, manageable IT spending that closely matches your business's needs. 
Reduced reliance on on-premise hardware
As we've mentioned, reduced reliance on on-premise hardware means lower capital expenditure and the ability to provision resources to match demand, but there are other benefits that are slightly less obvious.   
Hosting services on third-party infrastructure means you'll escape hardware lifecycle maintenance overheads, and you won't have to stress about vital components reaching end of life.  You also won't have to deal with the setup costs and upheaval that so often accompany on-premise installations.   
Access-anywhere capabilities
In 2020, almost half of UK employees found themselves working from home due to the covid pandemic, at least to some degree.  While many of us have since returned to the office, maintaining the option for staff to work remotely could offer your business some financial perks.  Allowing your team to work remotely, even on a rotational basis, could reduce pressure on your office desk space and allow you to achieve more without having to upsize to a larger office suite. 
Studies show that some individuals are more productive when working from home, with the practice often associated with a healthier work-life balance and lower stress levels.  According to recent studies, 43% of homeworkers cite not having to commute as a primary benefit, one with the potential to save employees hundreds or thousands of pounds per year.   
While remote working is not for everyone and every business, maintaining it as a viable alternative could reduce your overheads as an employer, improve employee retention and result in a happier, more productive team. 
Built-in automation
Not all business processes and workplace activities add value to your customers' experience or benefit your bottom line.  Many exist to serve an operational purpose, and while essential to the smooth-running of your business, often occupy a substantial portion of staff time that could be better spent on value-adding activities.   
Thankfully, modern enterprise software products often incorporate process automation to lessen the burden of low-value, repetitive tasks.  Solutions exist for every business domain, including marketing, accounts, HR and payroll.  Some automation platforms focus on specific business departments, while others (such as Microsoft's Power Automate) allow for highly customisable process automation and compatibility with hundreds of data sources. 
Automation isn't about supplanting your valued team with machines, it's about giving your team the breathing space to focus on meaningful activities that improve customer outcomes and boost profit margins.   
Data security as standard
With the average data breach costing UK firms £1200, taking the necessary precautions to safeguard the personal data your business holds could represent a shrewd investment.  The UK GDPR sets out the obligations incumbent on firms in this regard, stating that personal data should be processed securely by means of 'appropriate technical and organisational measures.'  A failure to satisfy these obligations could result in legal repercussions, financial penalties and lingering reputational damage.    
Overhauling your business's IT could provide an ideal opportunity to reassess your security posture, and ensure appropriate security devices are in place to protect data across your network.  You could also consider upgrading security countermeasures and take advantage of next-generation cyber security platforms that use artificial intelligence and behavioural analytics to detect threats with increased efficacy.  With cyber attacks becoming more frequent and damaging, both here in the UK and globally, investing a little in your cyber defences today could pay dividends in the long run. 
Connecting you to the modern world
Since our conception back in 2005, at Vostron we have operated under a series of predetermined guiding principles: agility, people, and approachability. With those principles adopted wholeheartedly throughout everything that we do, along with our progressive approach in helping our clients to achieve their business goals in the most cost-effective and secure way possible, we are proud to say that we have earned the trust of a loyal customer base across the UK from our home in Southampton. Please don't hesitate to get in contact to find out how we can help you!