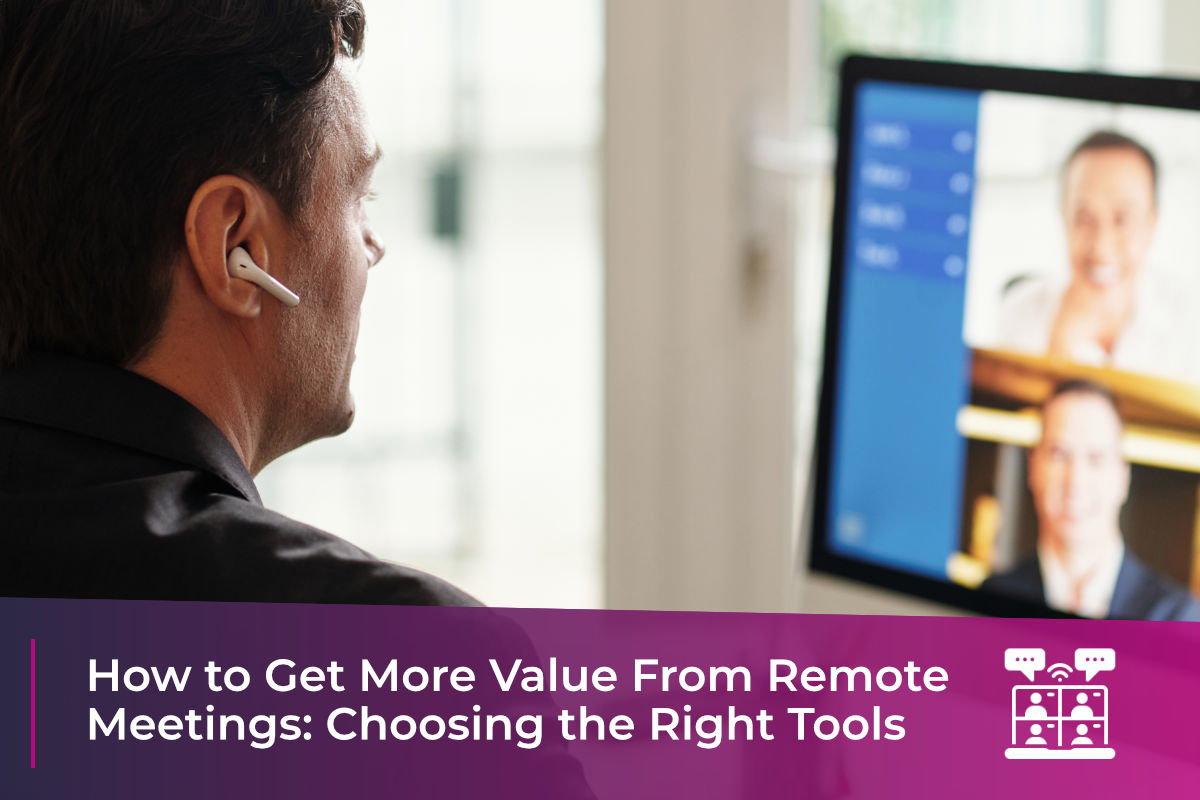 17 Aug

Remote Meetings: Choosing the Right Tools

There is greater demand for remote meetings than ever before, and this trend will continue. As a result of COVID19, workers had to adapt their working styles, moving from in-person meetings to working collaboratively behind a screen.

Initially, this was a daunting task. Having crying children, barking dogs, and a vacuum cleaner running in the background can make remote meetings a challenge.

In spite of this, as the world adjusted to lockdown measures, it became increasingly evident that remote meetings are as, if not more, effective as in-person meetings.

Of course, they are also capable of going off track. Here's how to organise, motivate, and collaborate effectively with your team during remote meetings. Despite the COVID19 crisis having thrust remote meetings into the spotlight, it's obvious they are here to stay. For all the right reasons.

Meetings conducted remotely require a unique set of tools, etiquette, planning, and execution. You can make the most of the time you have together by incorporating them into your work life. They can, however, very quickly fail if the correct tools aren't in place.
The challenges of remote meetings
Remote meetings can be small, 1:1 conversations or larger online gatherings with colleagues from around the world. Being able to communicate, collaborate, and work with employees from around the world illustrates one of the clear advantages of remote meetings. There are no longer geographical restrictions, and this fact alone allows access to a broader range of talent.
A remote meeting differs from an in-person meeting because it takes place virtually. That's pretty obvious, isn't it? Online meeting organisers face a variety of unique challenges as a result of that simple difference, including:
Affecting attendees' ability to read body language and emotion
Issues with audio and visuals due to technical barriers
Use of screen sharing to illustrate talking points
Working across time zones and shifts
Distractions and technical limitations in the home office
Despite the added technical barriers and distance barriers, remote meetings require the same structure and etiquette as in-person meetings.
It's a good thing that technology has caught up to the growth of online meetings. In response to rising demand, suppliers were able to meet it easily. Therefore, you can now use a variety of tools to simplify the process.
How to choose the right tool for remote meetings
A variety of factors should be considered when choosing a platform for remote meetings. It is important to consider factors that are specific to your team and organisation. For smaller and larger meetings, you may find it beneficial to use multiple conference platforms.
The question is, how do you choose the best conferencing tools for remote meetings? As you explore your options, take into account the following factors:
Your team's size
Time zones and locations
Sharing of screens and visuals
Having the ability to schedule in advance
Platform uptime and reliability
Along with choosing the best platform to host your meeting, how you manage it is equally important. The organisation of a meeting, keeping track of ideas and tasks, storing information centrally, and ensuring remote access to the material are all essential to a productive online meeting.
Meeting management tools include cloud-based note storage, digital whiteboards, and mind maps to capture notes in real-time. Your remote meeting may require Kanban boards to illustrate project progress, or even a simple Word document.
The important thing is to have a tool that keeps the discussion focused, captures new ideas and information, stores it for later use, and provides clear actions for the team.
One such tool is Microsoft Teams
Microsoft Teams is a collaboration platform within Microsoft 365 that promotes workplace collaboration, teamwork, video conferencing, and document sharing within a unified workflow.
Microsoft Teams, launched in 2017 as a rival to Slack, was used by 75 million daily active users as the COVID19 pandemic worsened, according to Microsoft. Teams has been called the fastest growing business app in the history of the company!
The launch of Teams, coupled with the necessity of remote working, has pushed Teams to prominence as one of Microsoft's most important workplace productivity and collaboration tools.
In Teams, video and audio conferencing have become increasingly important, replacing Microsoft's widely used Skype for Business Online tool.
This was particularly true during the pandemic when companies rushed to facilitate virtual meetings between remote workers. A 1,000% increase in video meetings was reported by Microsoft during March 2020 as companies closed and sent workers home, along with a huge increase in Teams users from 32 million at the beginning of March to 75 million by the end of April that year.
In order to capitalise on the rapid shift in working habits – and ease the fatigue associated with video conferences – Microsoft rapidly implemented new features to improve remote working capabilities.
Together mode, one of the major innovations, creates a virtual environment such as a conference room or café that crops video feeds from users and gathers them in more realistic settings to create a shared space conducive to conversation.
With the addition of real-time noise suppression, distractions are reduced. Deep-learning algorithms filter out unwanted background noise and retain only the speech signal.
The Teams app also offers basic video call features such as custom backgrounds, screen sharing, hand raising, recording, breakout rooms, and live captioning.
How can you find out what works for you? You can try out a range of different remote conferencing and meeting management tools available today, following our remote meeting tips along the way.
Connecting you to the modern world
Since our conception back in 2005, at Vostron we have operated under a series of predetermined guiding principles: agility, people, and approachability. With those principles adopted wholeheartedly throughout everything that we do, along with our progressive approach in helping our clients to achieve their business goals in the most cost-effective and secure way possible, we are proud to say that we have earned the trust of a loyal customer base across the UK from our home in Southampton. Please don't hesitate to get in contact to find out how we can help you!