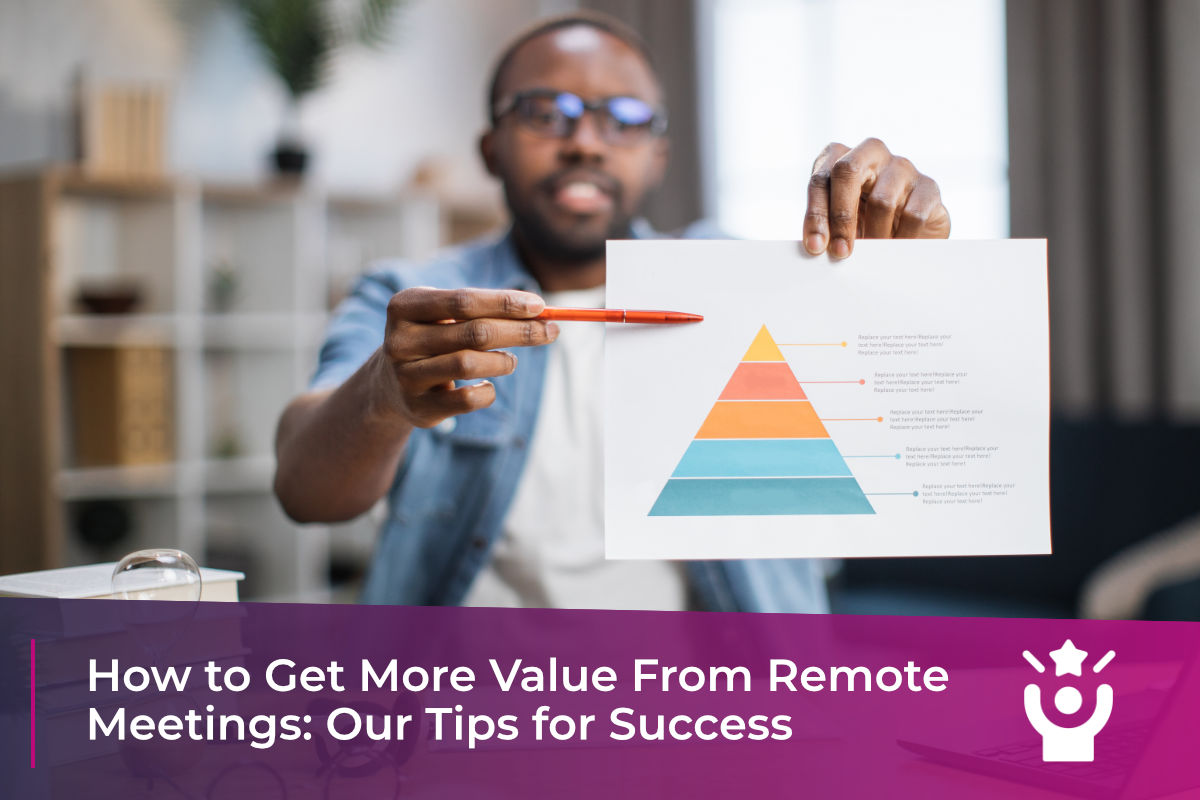 17 Aug

Maximizing Remote Meeting Success: Our Tips

Successful remote meetings involve more moving parts and considerations than classic in-person meetings. In addition to assessing and accounting for technical requirements, the organiser will need to co-ordinate speakers, an agenda, and the platform they'll use to manage the call.

In this article we'll give you some tips to aid you in holding a successful remote meeting, whether you're the organiser or the attendee.
Online meeting tips: the organiser
Keep them structured.
Ensure an agenda is created in advance of the meeting with input from attendees, if necessary. Remote meetings often tend to veer off-topic, so it's important to establish a clear set of conversation topics and action points to avoid waffle. You should present the agenda before the call, and at the beginning of the call. Schedule time for each section and leave time for a Q&A or discussion at the end.
Plan ice breakers.
If people don't know each other, ice breakers are a great way to make them feel comfortable in the remote meeting environment. Invite everyone to introduce themselves and share something interesting about themselves.
Appoint a lead or moderator.
You can choose a team member to steer the meeting. It will be their responsibility to present the agenda, stick to the schedule, and lead the conversation. The agenda or conversation topics you created in our first point should be shared with others.
Provide access links and invitations in advance.
Create access links using your chosen conference platform, and send calendar invitations to your team for a more formal online meeting. Prior to the call, ensure that all attendees are able to access the platform.
Assign roles.
Assigning jobs before a remote meeting is a good idea if there are multiple speakers and topics. Who is going to take notes? Who is responsible for follow-up? What are the names of the presenters? Ensure that these details are discussed in advance to avoid any hiccups.
Make sure your platform works properly before the call.
Perform a systems test with one or two people before the call to ensure everything works. This is especially important when there are many participants on a call.
Stick to a time limit.
There's no guarantee that everyone will be available beyond the assigned time, just because everyone is at home. Respect the hard stop time for remote meetings, just as you would for in-person meetings.
Invite the right people.
Don't invite everyone on your team if they don't need to attend. People who don't participate in a call are likely not to need to be there in the future. Make sure to take notes and adjust your strategy as needed.
After the meeting, share notes and to-dos.
By establishing the next steps and sharing the outcomes with the team, you will ensure your remote meeting doesn't waste time.
Organise a central database of knowledge.
Organise mission-critical information in a central database. This is a handy tool for keeping track of meetings and projects, as well as company knowledge earned.
Of course, the organiser is not the only one who bears the burden. To ensure a successful online meeting, attendees must also be well-prepared, present, and follow proper etiquette.
Online meeting tips: the attendees
Online meetings are only as effective as their attendees. The following tips will help remote meeting attendees ensure they are using their time well and contributing appropriately to the meeting:
Don't multitask.
Give the conversation your undivided attention. It's only common courtesy.
If you aren't talking, put the microphone on mute.
Your cat meowing in the background is not something anyone wants to hear. When that happens, the conversation quickly turns to "What kind of cat do you have? What a beautiful girl!". Unmuted people can distract and derail a remote meeting.
Turn your camera on.
Developing a rapport and fostering good teamwork requires face-to-face communication. The camera is integral to making this possible. Make sure it's switched on!
Make sure you have the right gear.
Invest in a quality webcam and microphone to present yourself in the best light. You don't get the best quality from the webcams and microphones built into your laptop or computer. Amazon has a great selection of webcams and microphones. Especially if you work remotely, it will be money well spent.
Prepare your workspace before the call.
You should be in a quiet, distraction-free environment so that you can focus on the conversation.
Keep your voice clear and slow.
It is not uncommon for video conferencing to drop out at times. Your voice will be heard and understood better if you speak clearly and deliberately.
Be thorough and descriptive.
The use of remote calls is limited to audio and screen sharing. Ensure everyone understands what you are talking about by being overly descriptive.
To illustrate your points, share your screen.
For clarity, share your desktop (screen share) if necessary. As a result, you will save time and gain a better understanding of the topic.
Ensure your to-dos are completed on time.
By doing this, you will maintain overall productivity, regardless of where you are working from.
It has taken some time and adjustment for companies to discover that remote meetings have their own advantages and strengths. Properly implemented, they can open up new opportunities, improve focus, and increase enthusiasm.
As a result, remote meetings are now a common practice in many companies.  In any workflow, having the appropriate tools and processes in place makes it more effective and efficient.
The same can be said for online meetings.
Connecting you to the modern world
Since our conception back in 2005, at Vostron we have operated under a series of predetermined guiding principles: agility, people, and approachability. With those principles adopted wholeheartedly throughout everything that we do, along with our progressive approach in helping our clients to achieve their business goals in the most cost-effective and secure way possible, we are proud to say that we have earned the trust of a loyal customer base across the UK from our home in Southampton. Please don't hesitate to get in contact to find out how we can help you!