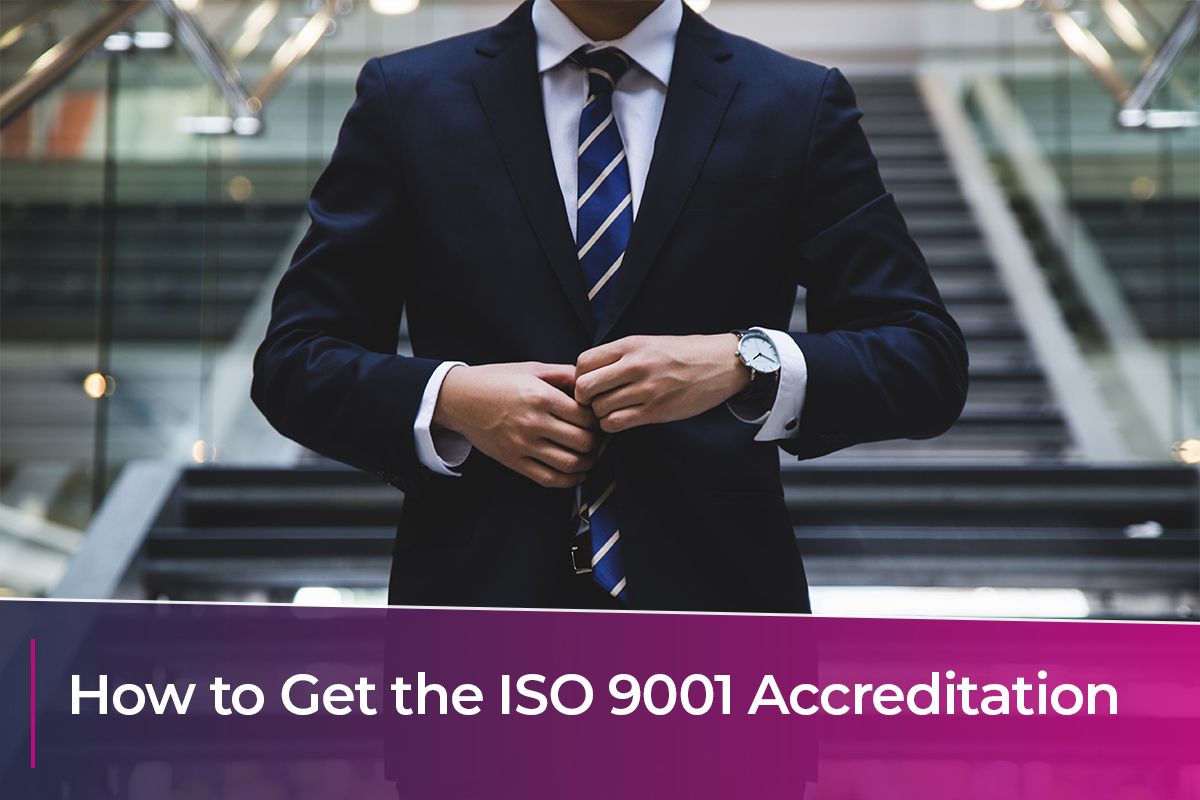 04 Feb

How to Get the ISO 9001 Accreditation

The sole accreditation body in the UK is the United Kingdom Accreditation Service (UKAS). Not all certification bodies have to achieve UKAS accreditation, and that's good – because it isn't easy. Just as your certification will prove to your clients that you are competent and capable, the ISO 9001 accreditation shows that you can be trusted and can conduct your audits effectively.

Let's learn a bit more about the ISO 9001 certification.
How do I get ISO 9001: 2015 certification?
To achieve ISO 9001, you'll need to document evidence that your Quality Management System (QMS) is not only in place but that it meets the standards needed for certification. By getting in contact with our expert team, we can supply the tools and recommendations that help you to do this correctly.
You will need to use the services and experience of an external auditor. They then get to know your policies and procedures, identify gaps that need filling and in turn help you achieve certification. They will provide you with a full report of their findings, making it easy to deliver on the points that need improvement to achieve certification.
The auditor will then return for a stage two assessment to ensure that everything is as it should be, and, if so, they will reward you with your ISO 9001 certification.
How long does it take to get ISO 9001 certification?
This depends on many factors, including the size of your organisation, how much you already have in place and how much resource is available to work on your management system. On average, business owners say that it takes around 4-6 months – but some as little as a month. Each business is unique so there is no saying how long it is going to take.
Make preparations in advance to speed up the certification process.
How hard is it to implement ISO 9001 certification?
This is entirely dependent on the size and complexity of your organisation. Your auditor will provide you with a clear representation of processes and documents which, ideally, you should already have in place. This hopefully means that the certification process isn't as complex as first thought.
Your ISO 9001 assessment will be conducted in two stages, but the more you prepare the quicker and easier the certification process will be. We recommend taking a look at the requirements of ISO 9001 and putting in place as much of the required documentation as you can.
We also recommend taking a look at our free online course so you're familiar with ISO 9001 before the process starts. But preparation isn't essential, because that is what your auditor is for – they will provide you with a full report of their recommendations, as well as tools and information you can use to prepare your documentation.
Does ISO 9001 require regular assessment?
Yes, and it's good that it does – it means that you are committed to improving the strengths of your security systems, ensuring that your ISO 9001 certification is firmly solidified. Your auditor should meet you on an annual basis after having achieved the certification; your systems will maintain high standards and help you to identify any areas that might need improvement.
Connecting You to a Modern, Secure World
Since our conception back in 2005, at Vostron we have operated under a series of predetermined guiding principles: agility, people, and approachability. With those principles adopted wholeheartedly throughout everything that we do, along with our progressive approach in helping our clients to achieve their business goals in the most cost-effective and secure way possible, we are proud to say that we have earned the trust of a loyal customer base across the UK from our home in Southampton. Please don't hesitate to get in contact to find out how we can help you!