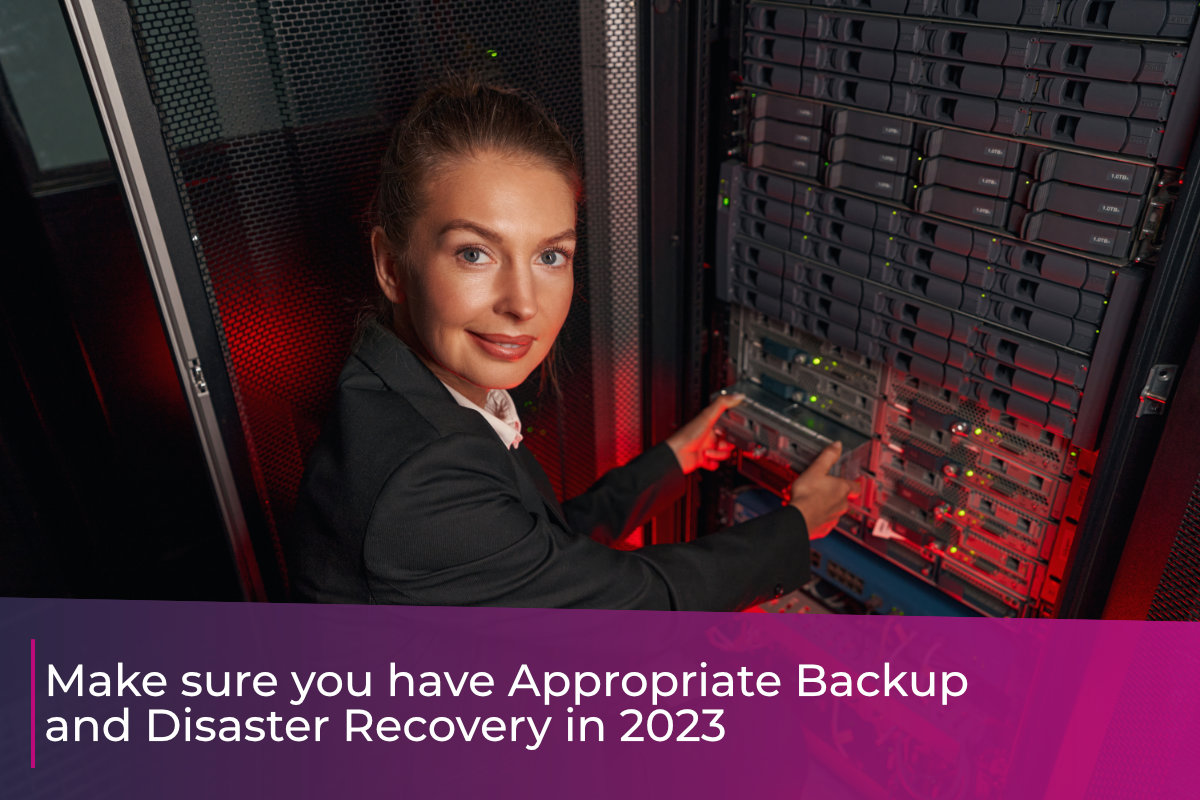 14 Feb

Make sure you have Appropriate Backup and Disaster Recovery in 2023

Posted at 12:25h

in

Blogs

Things can change quite fast at work. Cyber threats are increasing as our companies go online more and more. Some of us are more technically adept than others, yet while using websites, emails, and other online resources, people don't behave appropriately, leaving us vulnerable to a variety of potentially crippling cyber attacks.

These dangers, together with unavoidable calamities like fires or floods, highlight how crucial a business continuity plan is. You and your team need to establish a strategy with a set of steps to take when a calamity happens.

Any time can be a disaster. Cyber attacks, in particular, are typically carried out in the shadows until it is time to strike. Occasionally, signals or warnings are obvious. You must modify your disaster plan for each one because there is no such thing as a universal catastrophe plan.

You'll be able to live through a disaster and recover if you develop, carry out, and evaluate a disaster plan with your team. Only if you accomplish this will your organisation be able to run smoothly.

Without one, your company could experience not just challenges that define it as a whole but also its demise.
What is business continuity?
Business continuity is the process of promptly resuming business activities after a significant disruption. It makes little difference what caused the disruption—a flood, a fire, or cybercrime.
Business Continuity Plans specify the precise steps and guidelines a company must take in the case of a catastrophe. In order for every department to ideally continue operating with little disturbance, all areas of your organisation must be covered and everyone must understand their position in the system.
Disaster Recovery Plans (DR) are developed with the aim of rebuilding infrastructure, in contrast to Business Continuity Plans (BC). Disaster recovery is indeed a crucial component of your business continuity plan, but if you can keep your critical systems prepared to restart, you'll be restored to full functionality as quickly as feasible.
Uncomfortable questions you'll have to ask yourself include: Will the business be able to function after the disaster? Is there a method for employees to continue working elsewhere, such as at home or in another area, if a roof leak damages computers by soaking everything? You will be more prepared the more options you investigate.
Your BC plan's Business Impact Analysis section is a crucial but frequently overlooked section. The impact of the loss of business functions is measured by the BIA. You can use this knowledge to help you with some important choices. For instance, many individuals question if they ought to outsource non-core activities. By accident dividing your company into value offers, BIA enables you to set priorities.
Anatomy of a Business Continuity Plan
Determine which portions of your business processes are more vulnerable than others by performing an initial assessment. Then, consider what might occur if that area of the process is idle for a long time.
Create a plan after that. There are six basic steps in this.
What exactly does your plan cover? It is essential to take a holistic strategy because there is no purpose in selecting one area of the business only to find out later that another area of your organisation has an impact on that plan and necessitates its adjustment.
Decide on important business sectors, such as the intersection of sales and manufacturing.
Identify the essential functions. Is there a procedure that is crucial to how your company runs?
Find out how dependent different business areas and functions are on one another. Once you know this, you'll understand how important it is to get these areas and functions back up and running.
Determine the minimum amount of downtime that can be accepted for each area of the business. Some downtimes will be nearly zero because none is acceptable.
Think out your maintenance strategy. What protocols need to be in place if business is to continue?
Supplies and equipment, the location and owner of the plan, the location of data backups, and contact information for emergency responders, important individuals, and suppliers should all be on the checklist.
You should establish a Disaster Recovery Plan in addition to a Business Continuity Plan. Since few companies have ever found themselves in the middle of a disaster without any backup plans, the majority of organisations already have these plans in place. However, you must confirm that it is competent and compliant with your organisational needs.
The expert members of your team will know which portions require a hard touch and which sections require a light touch, so don't worry; you won't have to do this alone. If you can eventually get them to discuss times they made mistakes and when they solved any issues, this insight could prove to be priceless to you.
Vostron – Making sure you can benefit from your technology
Value will be ensured by properly using the tools at your disposal. You have the ability to completely alter how your company produces work. We can make sure you employ the appropriate tools, implement them properly, and plan for the future using those tools as key resources for the sustained success of your business. TRUST is the one factor that has contributed to our success. Since our very first year in business, our clients have been pleased to refer us to other companies, and as a result of their referrals, we have steadily expanded. We can genuinely assist you in maximising your IT in the safest manner feasible. Do not wait to get in touch with us!