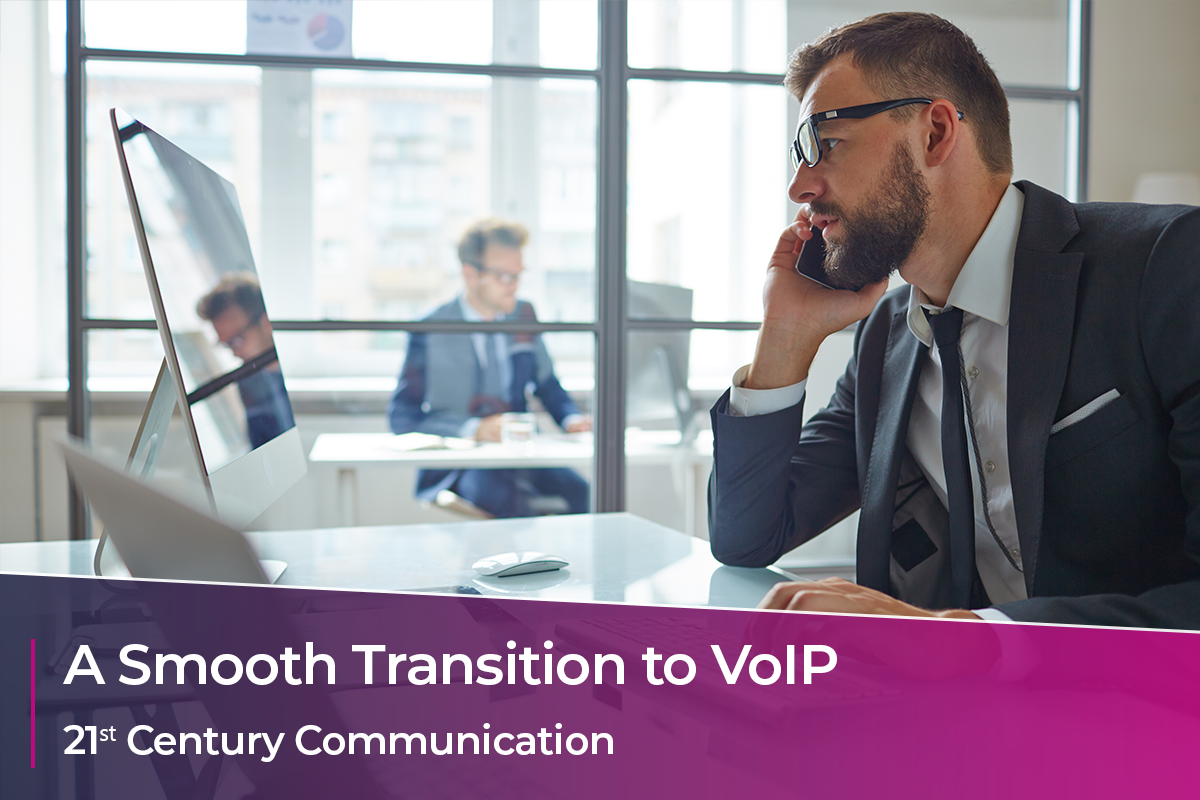 09 Dec

Modern World Communication | Communicating in the 21st Century

In the previous blog in the series we explored the traditional methods of communication that we are all familiar with, and explained how these methods are simply no longer good enough to assist your organisation in the modern digital age. Communication is the most important ingredient in running a successful business. In the following blog we will explore modern communicative methods and how they can help your organisation excel going forward.
Communication for the modern business
VoIP – Telephony for the modern business
VoIP stands for Voice over Internet Protocol. VoIP allows you to make a call directly using a computer or a VoIP phone from anywhere, all whilst still keeping the same contact number.
ISDN (traditional telephony for businesses) is nearing end of life. This alone makes traditional phone systems unfit for purpose, and it doesn't help that it is ridiculously expensive. VoIP, with its comparatively low-price tag and its advanced capabilities, allows you to communicate with your team no matter where they are in the world!
Why is VoIP the obvious replacement?
The 'office setting' from anywhere
VoIP allows you to 'deceive' your clients into thinking that your team are still at their desks, when in reality they could be anywhere in the world. VoIP allows you to better your levels of professionalism in comparison to traditional telephony with no change to the process for your customers. (The number they call is the same reputable company one that they always contact you on, and the call is still answered with the same cheery professional greeting.) This is integral to the success or failure of the contact – for new customers in particular this is essential to develop trust and the portrayal of professionalism within your organisation.
Mobility
Traditional phone lines that run to a business have a specific number assigned to them. With the transition to remote working your employees have to remember complex codes and keys to dial in order for their device to appear as the office number. This process wastes a lot of time that could otherwise be spent being productive.
VoIP allows for advanced mobility of service. It is possible to have a team that work from a variety of different locations with little to no effect on the service – it will appear to your clients that you are still at your desk.
Relationships
Voicemail was once a key part of business all over the globe. In the modern fast-paced world of work we operate in it has become too time-consuming to be of use any more. VoIP makes voicemail obsolete; it allows you to choose where your calls ring and for how long. You could theoretically have the first rings take place to your office, the second to your home, the third your boat (if you're lucky enough to have one), and the last to your mobile, allowing you to guarantee to your clients that you will never miss their call.
Reliability
By correctly implementing the tools we described above you can make guarantees that you couldn't before. By choosing where your calls are forwarded to, in the event of disaster you can simply route your calls to another location, allowing you to guarantee a certain quality of service no matter the circumstances.
Microsoft Teams
Microsoft Teams is one of the latest additions to the Microsoft family, but, regardless of its relatively new presence, it has become one of the most successful applications of all time. With its daily average user count of 145 million people spanning the globe, it is simply miles ahead of the competition. Teams integrates with the Microsoft 365 ecosystem, it allows your team to share files, co-ordinate tasks, and schedule meetings, all in one place, allowing you to completely irradicate in-house emailing, and, in turn, take your business into the future!
Keeping up-to-date with the technological landscape of workplaces around the world and what could benefit your own is essential, as, by doing this, you guarantee that your team are as well-equipped as possible to complete their roles to the best of their ability.
Connecting you to the modern world
Since our conception back in 2005, at Vostron we have operated under a series of predetermined guiding principles: agility, people, and approachability. With those principles adopted wholeheartedly throughout everything that we do, along with our progressive approach in helping our clients to achieve their business goals in the most cost-effective and secure way possible, we are proud to say that we have earned the trust of a loyal customer base across the UK from our home in Southampton. Please don't hesitate to get in contact to find out how we can help you!