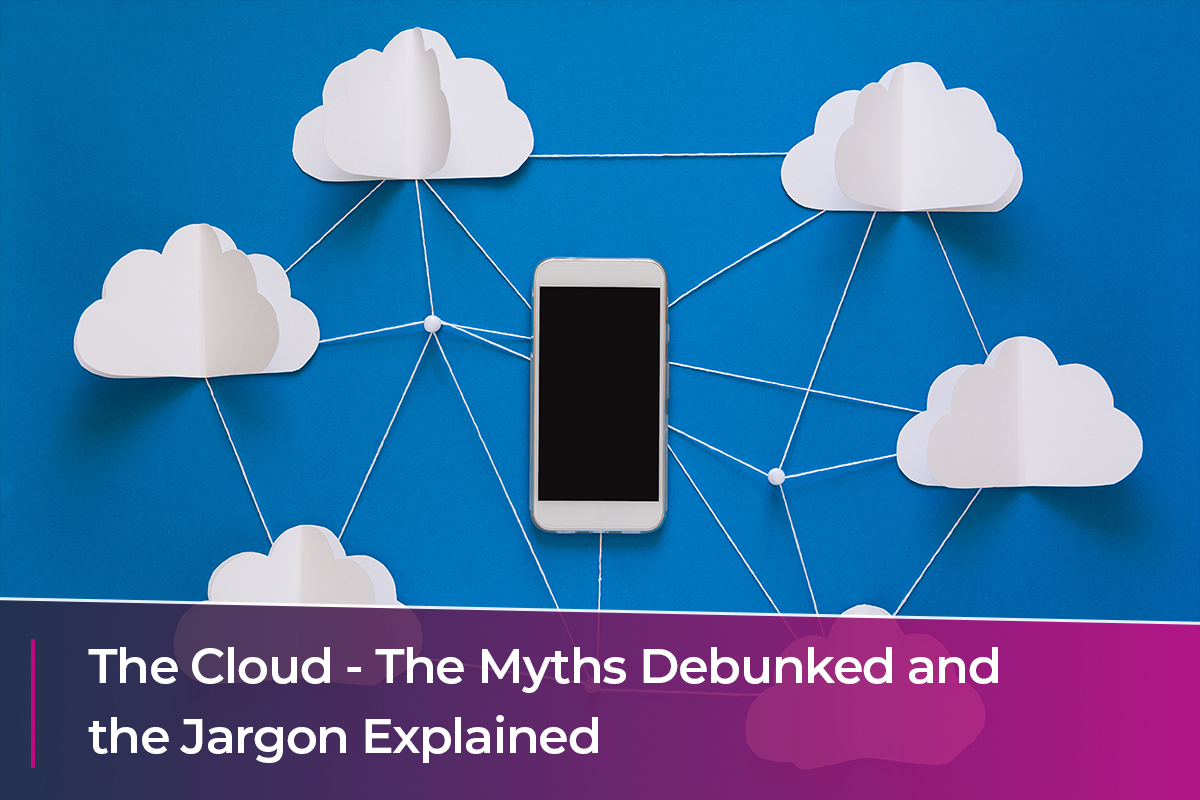 07 Mar

The Cloud – The Myths Debunked and the Jargon Explained

In the previous article we explored and debunked some of the common myths that business owners have heard surrounding Cloud computing, most of which have created stigma around its capabilities. In this article we will explore some of the abbreviations used by professionals when referring to the Cloud. In the process we hope to help you to understand all the terminology that they may use in future conversations with you, which will ensure that you are equipped to easily determine what is the right course of action for you, your team, and your organisation. Once you have the knowledge to make sense of the jargon the professionals use, you will really be able to find value in it as a tool.
The technical jargon explained
IaaS – Infrastructure-as-a-Service
Infrastructure-as-a-Service is computing framework that is provided over the internet. Upon choosing IaaS as your choice of Cloud service, your chosen provider will supply and manage the infrastructure that your software resides in, on a subscription basis. If you are certain IaaS is the right choice for you, we recommend that you involve a professional IT specialist in every step of the process, from buying and installing all the way to configuring it – they will also make life so much easier when it comes to managing it long term. It can be particularly complex to understand but needs to be done right to ensure you are using the Cloud not only as productively as possible but, even more importantly, as securely as possible too.
SaaS – Software-as-a-Service
Software-as-a-service is the delivery of applications, and the storage of data within those applications, as a contractually paid service. Also, if you get the right provider, the security and back-up of that data will come as standard in your agreed price. SaaS is the most common choice of Cloud service – some of the most popular include Microsoft 365, Google Workspace, and Xero Accounting. SaaS alleviates the arduous process – and stress – that comes from managing your software and hardware personally; not only are these tasks stressful but, for those with little technical prowess, they can be very time-consuming and difficult tasks to complete.
Cloud applications
A Cloud Application is software that you access online instead of installing and accessing it on individual computers. Using a Cloud Application saves you time and money but offers reduced services in comparison to installing it directly.
Cloud storage
We are sure you can guess this one, but that doesn't make it any less important. Cloud storage is a storage facility – of which the main aim is to irradicate the large storage and management requirements that were necessary traditionally for individual computers and servers, which made them clunky and hard to manage. Saving your data to the Cloud means that your data is stored in remote servers and is now available to be accessed (subject to predetermined controls, of course). This allows for your remote working team and staff in the office to have seamless access to all the data necessary for them to complete their job roles to the best of their ability.
Now that we have explored the Cloud, debunked some of the myths surrounding it, and hopefully enlightened you on some of the jargon that professionals use when referencing it, let's explore some of the many benefits of Cloud computing in modern business.
The business benefits of the Cloud
Collaboration
The Covid-19 pandemic forced businesses to transition to ways of working which they weren't familiar or comfortable with. Many have found it impossible to collaborate with their team while it is spread out around the country and, in certain business circumstances, the world. The Cloud allows you to improve on the levels of collaboration that you achieve in office – yes, you read that right; not 'maintain' but 'improve'. Your team can be situated anywhere on the globe and have the ability to collaborate simultaneously with each other, your in-house team, and any other entities in any location, on the same documents.
Apps like the world-renowned Microsoft Teams allow your team to communicate from anywhere on the planet with an internet connection. The Cloud makes levels of collaboration we previously thought were unrealistic and unachievable well within the grasp of every business, large or small.
Back up & continuity of business
As much as we don't like thinking or talking about them, business defining disasters do happen. So, when they do you need to have an efficient way of accessing all of your vital business data rapidly – the Cloud is the answer. The Cloud allows you to continue with business-as-usual at rapid pace no matter the circumstances. Flood in the office? No problem, transfer your system to another location with an internet connection, access the Cloud, and you are back working.
Scalability
The Cloud makes scaling operations easy; it can be frustrating when you need more from your tech but know that it can't keep up with your business needs. Over recent times, business owners haven't been planning too far in advance anyway, with many not knowing what was happening day to day let alone what was happening in a couple of months' time. So now you can make the call – having the ability to scale at whim gives you a massive advantage over your competition who are stuck at the same capacity no matter what.
Reduced cost
The Cloud can save a lot of money for the businesses that implement it as there are none of the usual capital investments required before you are able to start using it. The Cloud makes sure that you only pay for what you are using – making it very cost-effective. Your monthly investments can be changed accordingly if you aren't using – or getting value from – the features in your original plan.
We recommend a change to Cloud computing. Your organisation – be it a small business of a couple of employees, or a large multinational conglomerate – can benefit from its capabilities. We hope we have helped you to make a revised decision based on what is right for you – but, if you are still unsure, please don't hesitate to contact us for expert IT consultancy and support in making your decision.
Connecting you to the modern world
Since our conception back in 2005, at Vostron we have operated under a series of predetermined guiding principles: agility, people, and approachability. With those principles adopted wholeheartedly throughout everything that we do, along with our progressive approach in helping our clients to achieve their business goals in the most cost-effective and secure way possible, we are proud to say that we have earned the trust of a loyal customer base across the UK, all from our home in Southampton. Please don't hesitate to get in contact to find out how we can help you!