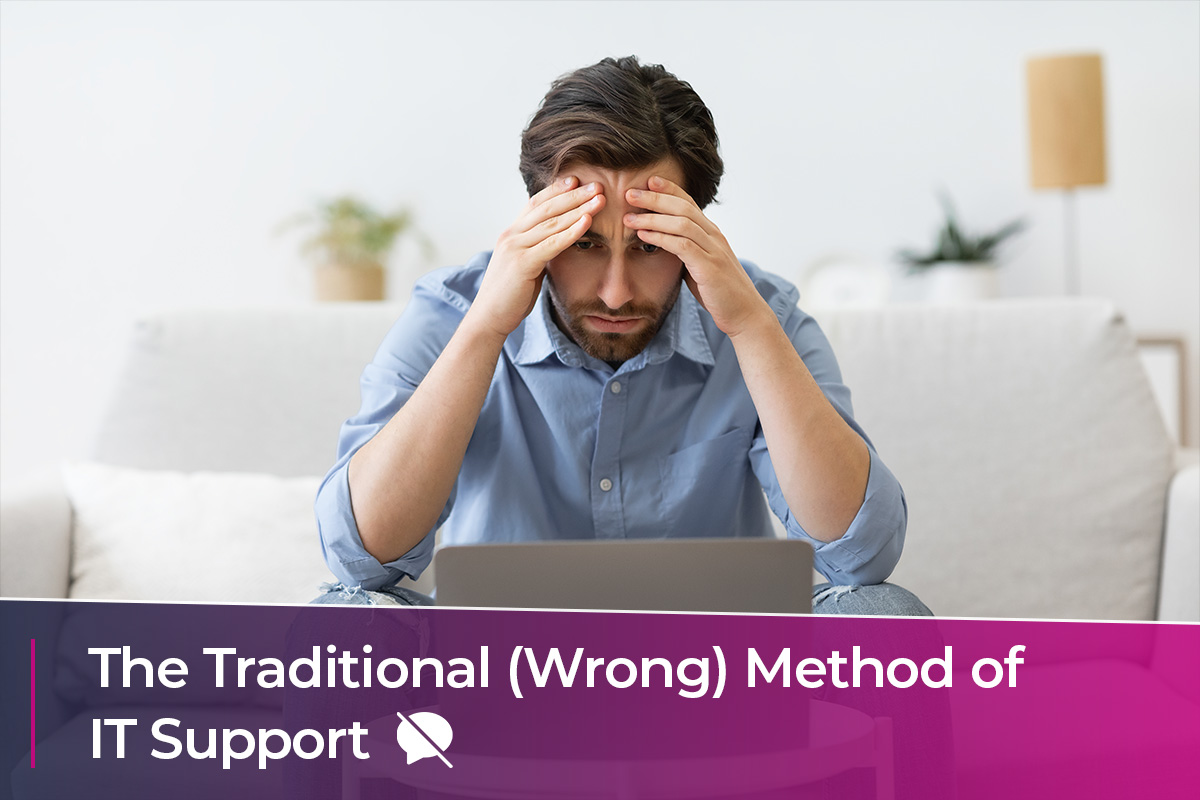 05 Apr

The Traditional (Wrong) Method of IT Support

The world of technology is constantly evolving and changing, over the last two decades in particular new innovative tools have been released that are capable of revolutionising your workplace and the way you and your team work. Due to these revolutionary advancements, businesses around the world have made sure that technology is working for them in the best way, they have attempted to mould it into the very fabric of their organisations.

For quite some time, it was only large organisations that could really benefit from the capabilities of modern tech, but that is no longer the case – in the modern age you will find technology at the forefront of both large businesses and smaller local ones too.

Due to our new found reliance on tech, it has become imperative that the method of IT and the tools you choose to use are both implemented – and managed – in a way that is beneficial to both you and your team, and must improve the levels of efficiency, communication, and collaboration that you and your team can achieve. It can feel like a very expensive venture if you don't guarantee this.

Business owners are wising up to their need for a personalised service, and this has really highlighted some IT companies flaws. Traditional support is based around fixing problems as they arise, which – of course – is important, but modern IT support demands so much more.
Modern IT support – what is it?
IT support is the management and maintenance of IT across an organization. Support spans the various technology services that outsourced IT Support companies (Managed Service Providers) offer to businesses and their users, along with an unlimited support Helpdesk offering what is almost entirely focused on delivering reactive aid to faults as and when they are reported by a user.
As we said, current providers aren't doing enough and are being found out, it can be hard knowing what a provider should be doing, we are so used to a lack lustre service that our expectations have dropped dangerously low.
What should IT support look like?
Reactive not Proactive
The majority of IT providers are lying to you – all claim to approach your system and future with IT productively, it is simply a 'buzz' word that sounds good in their pitch. In reality, the majority run their businesses like an insurance company, only showing genuine interest when there is a problem or something goes wrong.
Limited availability
Some providers put a cap on how many call outs you are entitled to – any provider that does this should be avoided at all costs! If you had the ability to look into the future and see how often you were going to need assistance, then you wouldn't be calling for help in the first place!
Lack of – or mediocre quality – communication
It is fair to say that tech minded individuals aren't predominantly the best communicators – they of course cannot be beaten on their technical prowess, but this is no longer enough. Most fall short in terms of standard and levels of communication needed to support clients sufficiently.
Relationship breakdowns are imminent in these cases, you will be completely left in the dark about future plans (if any exist), and your provider will have no knowledge of your vision for the company, your ethos, or requirements you may have meaning that pre-planning for the future isn't happening by your provider.
Just as supporting your business isn't easy for your provider, choosing one to support your business shouldn't be either. There are some things to look out for in a provider to ensure that they have the ability to look after you and your team to the best possible standard.
What a Good Provider Looks Like
Communicative
One of the most important features to look out for in a modern IT partner, is the quality of communication they offer. Your provider should be in regular contact with you on a scheduled basis – by the end of said call you should always achieve something. Obviously don't expect a call everyday to see how you and the team are getting on, but waiting for months for one is far too long, something in between is about right. They should use these calls to get to know you your team, your ethos, and the way in which you do business. Your provider should have an understanding of your sector, the challenges that you and those in your sector face daily, and the landscape of your industry as a whole.
Particularly good providers will assign you your own account handler, the point of you having the same handler every time communication is made is that they can then get to know your organisation – rather than just looking for issues. Every decision should be made in the best interests of the business, they should help you – through the use of the right technology – devise a method that can ensure the continued success and growth of the organisation.
SLA'S – Service Level Agreements
An SLA (Service Level Agreement) is a set of minimum service parameters which a provider will 'guarantee' to meet in the delivery of your service. The Obligations range widely, some include response times, and the speed of response depending on case severity. It is essential that you check these with the provider before signing! If you sign before you could be committing to a service that simply doesn't suit the way your organisation does business – in turn, putting your entire business at risk.
Proactive
Proactivity is important! A good provider with a proactive approach to your IT infrastructure and support will initially break down your business into component parts with the intention of learning the way you do the things. They will then – by making small minute changes to the way you do things – prepare you, your team, and your systems for any anticipated problems by updating or restructuring the way tasks are carried out.
Your IT support isn't what it once was, as you can see – it needs to be catered to your organisation, doing so will revolutionise the way you and your team carry out tasks, ensure that tech tools and service and infrastructure are working the way that they should be. If IT is managed and implemented correctly – it can weave its way into your business and gradually become if not the, then one of the most important parts business processes.
In the following and last article in the series we are going to delve deeper into what an IT provider should be doing for your organisation and how – with the right support – you can reap the benefits of modern IT.
The Right IT Provider
Since our conception back in 2005, at Vostron we have operated under a series of predetermined guiding principles: agility, people, and approachability. With those principles adopted wholeheartedly throughout everything that we do, along with our progressive approach in helping our clients to achieve their business goals in the most cost-effective and secure way possible, we are proud to say that we have earned the trust of a loyal customer base across the UK from our home in Southampton. Please don't hesitate to get in contact to find out how we can help you!