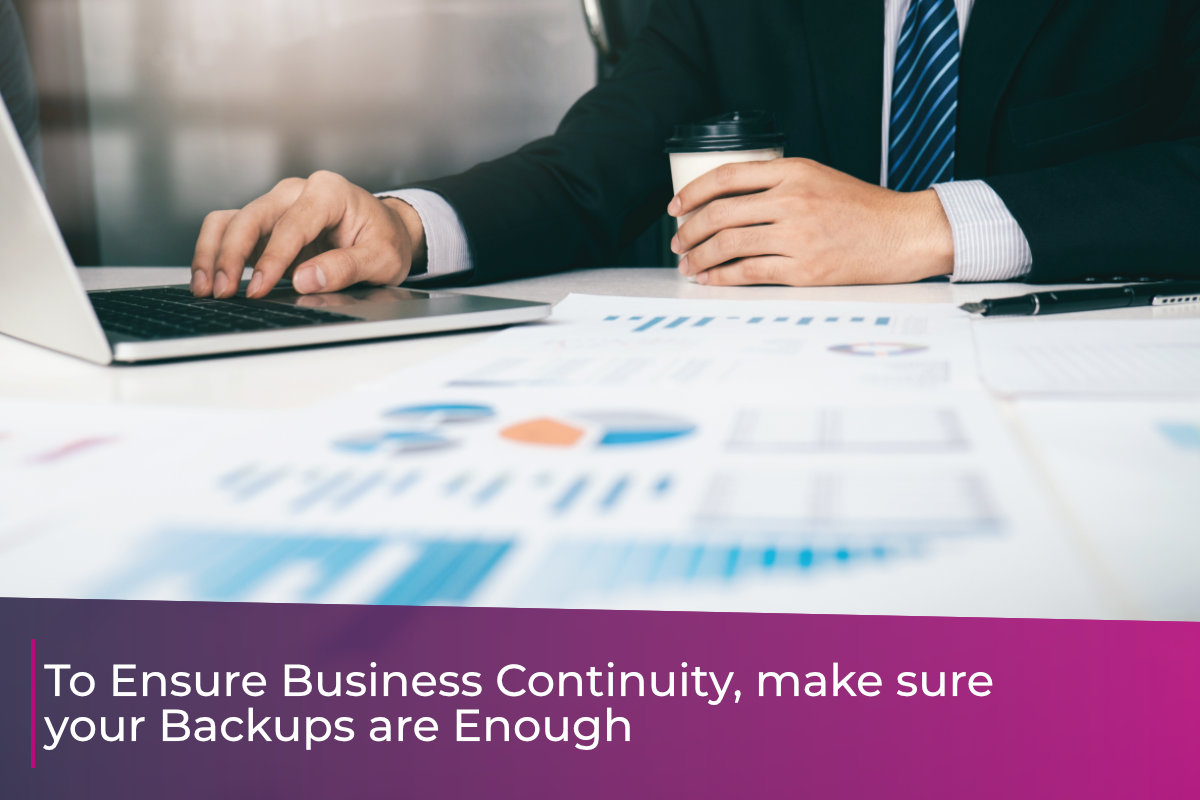 14 Feb

To Ensure Business Continuity, make sure your Backups are Enough

Posted at 12:33h

in

Blogs

Every organisation worth its salt uses some type of catastrophe recovery to ensure company continuity. The existence of a solid and developed disaster recovery plan that can assist in the event of data loss is unknown, nevertheless.

A successful business must have a plan for business continuity and disaster recovery. A disaster recovery plan outlines the steps, techniques, and equipment you'll need to recover your data in the event of a data disaster. Contrarily, the business continuity plan outlines the numerous safeguards you should take as well as the corrective measures you should take in the event of an occurrence.
Cloud backup vs. on-premise backup
In the past, businesses either employed file-based backups or had their own private backup systems. Although this kind of backup system was thought to be somewhat safe from external cyber attacks, it was highly expensive to operate and provided little automation or restoration flexibility. Your catastrophe recovery strategies therefore had little options.
The majority of businesses have shifted to cloud backup solutions as cloud technology improves, cloud security rises, smart budgeting becomes more practical, and cloud backup solutions become more inexpensive. As a result, automated backups, restores, 24/7 cloud monitoring, and other features are now included in disaster recovery plans. Due to their simplicity and versatility, cloud backup solutions are often assumed to be all that businesses require.
There are several key ways that cloud backups differ from on-premises backups:
Data storage:
On-premises – On-premises servers and storage
Cloud – Located on cloud data servers far from the physical location of a company
Cost:
On-premises – Infrastructure and tools are expensive to invest in at first.  No monthly fees are required, however.
Cloud – It does not require any initial capital. You will, however, have to pay a monthly subscription fee.
Security:
On-premises – As the data is stored offline and accessible over the internet, it is safe from cyber attacks
Cloud – Data in the cloud is protected by inbuilt security features and up-to-date security systems. Nevertheless, since it is connected to the internet, cyberattacks are possible.
Internet requirement:
On-premises – Not required
Cloud – Need internet to access the data
Maintenance:
On-premises – The organisation is responsible for completing this task
Cloud – Provided by the cloud service provider.
Although the cloud provides a secure location for backups, your recovery plans must still include any risks connected with storing the data there. If the cloud data servers are compromised or damaged, there is still a danger that you will lose your data.
So, in addition to your normal online backups, it is important to have extra copies. If you back up your cloud services to a different ring-fenced environment, your data is always available and recoverable.
Choose a comprehensive data backup solution
On-premises backups and cloud backups should both be optimised if you want a reliable backup solution. Look for features like automated, continuous backups, quick recovery, and cost-effective pricing structures to ensure continued company continuity.
Having said that, in the event of a disaster, we assist businesses in completely protecting and recovering their data, whether it be a single file or a whole system.
Vostron – Making sure you can benefit from your technology
Value will be ensured by properly using the tools at your disposal. You have the ability to completely alter how your company produces work. We can make sure you employ the appropriate tools, implement them properly, and plan for the future using those tools as key resources for the sustained success of your business. TRUST is the one factor that has contributed to our success. Since our very first year in business, our clients have been pleased to refer us to other companies, and as a result of their referrals, we have steadily expanded. We can genuinely assist you in maximising your IT in the safest manner feasible. Do not wait to get in touch with us!