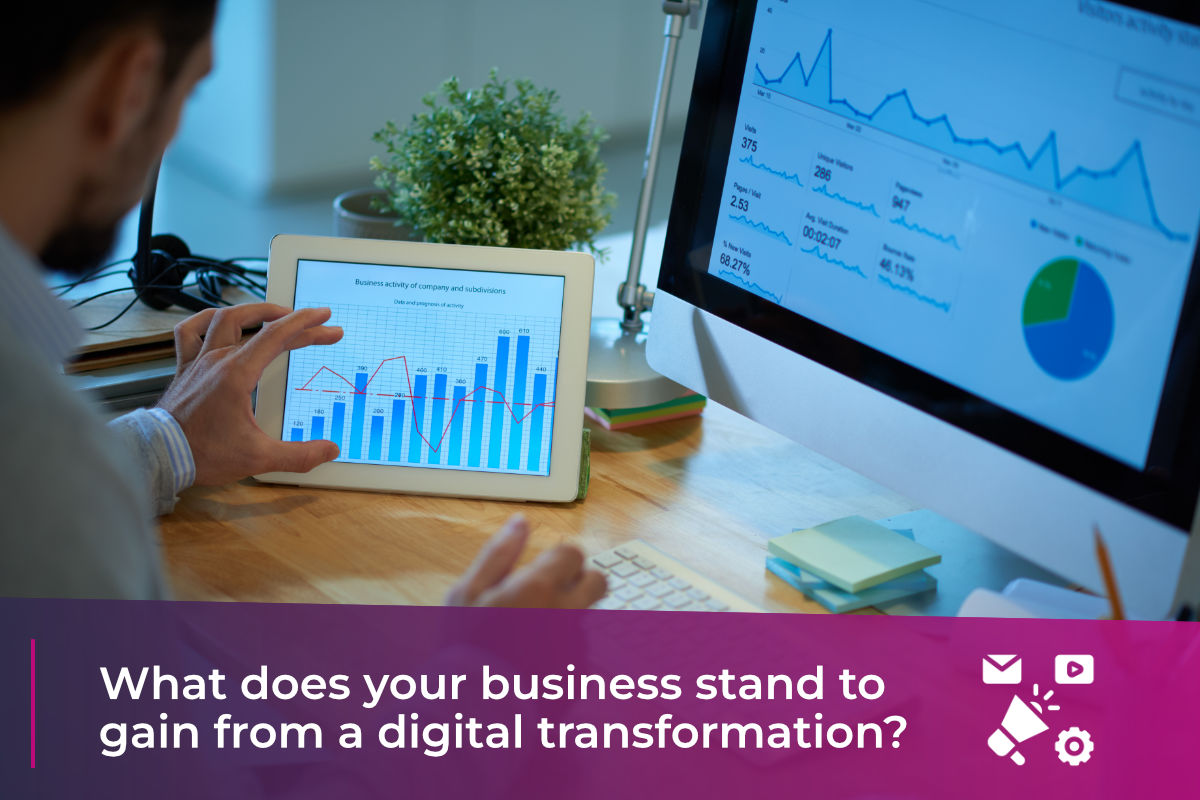 26 Sep

Digital transformation benefits for your business?

In our previous article we defined "Digital Transformation" and looked into the drivers behind the growth of the concept.  Now let's examine some of the most game changing technologies that can be deployed in a digital transformation, and how such changes could translate to profound business benefits.
The tech that drives business transformation
Strictly speaking, any digital technology you adopt can be said to be a contributor to your digital transformation, and it could be argued that if you're reading this on a computer then your digital transformation is already underway.  Let's instead focus on emerging technologies that are changing the business landscape today and are likely to cause seismic shifts in the near future.
Automation and A.I
Automation is now ubiquitous, and you likely already have tools at your disposal that enable some degree of automation.  Automation means process execution with minimal user input.  It can be used to streamline workflows and make business processes more efficient.  CRM software, ERP software and even the likes of Microsoft 365 now heavily feature automated capabilities, with programmable rules automating processes that were once manual and software connectors bringing together data sources to provide business insights.
Artificial Intelligence is a sub-branch of automation.  A.I defines the ability of computer programmes to make human-like decisions based on past experience. Software can "learn" from previous data sets and use this learning to make optimised, lightning-fast decisions.  A.I is becoming increasingly common, and can be found in the likes of grammar-checking software, CV scanning tools and web-hosted chatbots.
Internet of Things (IoT) technologies
The "Internet of Things" describes a vast collection of devices which incorporate sensors for data collection and then share this data over the internet.  IoT devices are positioned at the frontline of computer networks and gather data from the physical world so that automation software (including A.I) can make data-driven, real time decisions.  Such devices are now abundant in our lives, but feature particularly heavily in manufacturing and logistics, with IoT devices giving operatives instantaneous access to the data they need.
Hybrid Cloud Setups
Cloud computing has transformed the world of IT over the past decade or so, providing access to resources from anywhere, and the ability to scale computing resources according to operational needs.  Many organisations feature cloud computing in a Hybrid cloud setup: an arrangement that combines the flexibility and scalability of public cloud environments, with the enhanced security and customisation potential of private cloud infrastructure and on-premise networks.  Hybrid Cloud represents the "best of all worlds," affording business agility, cost efficiency and the ultimate in data security.
Digitization
Digitization describes the process of going paper-free or paper-lite.  This may seem like an outdated concept, but it remains a vital component of digital transformation in organisations across various sectors.  Digitizing paper records and storing them in the cloud is a great way to make information text-searchable and easily retrievable by those who need access to it.
What can I hope to achieve by embracing digital transformation?
By embracing change and adopting new solutions, technologies and business architectures your business could stand to benefit is a range of ways.  Here are some of the most common benefits digital transformation can bring about.
Improved customer satisfaction
Whether achieved by taking advantage of consumer behavioural insights, integrating automation into your CRM or introducing new channels for customer engagement, your customers stand to gain a lot from your digital transformation journey.
Automation could free up your customer service personnel, enabling them to provide a more intimate, personalised experience.  By automating business processes you could vastly reduce the possibility of human error, leading to more reliable service delivery for your clients.
Boosted profit margins
By incorporating productivity technologies into your operation, you'll be able to do more with the same number of staff hours.  Automation could give your marketing team more time to generate leads, which could translate to higher sales.  IoT devices could make manufacturing processes more efficient, resulting in faster production with the same levels of resource input.  Business insight platforms could harness data and provide new insights into the behaviour of your customers, allowing you to adapt sales campaigns accordingly and generate more revenue.
Maintain your competitive advantage
It's important to remember that the transformational technologies we've talked about are available to everyone and that includes your competitors.  By adopting early, you'll help maintain your competitive advantage, keeping your organisation lean, efficient, agile, productive and resilient in the face of turbulent economic pressures.
A happy, productive workforce
Ever feel like there aren't enough hours in the day?  The chances are that if you feel this way, your team also feel under considerable pressure.  A team weighed down under a mountain of tedious, menial tasks is likely to feel despondent and unmotivated: humans like feeling productive and purposeful.  Digital transformation can lead to inspired, happy employees by reducing the burden of low-value, menial tasks.  Your team will be more able to play to their strengths, and focus on meaningful, value-adding activities.
Conclusion
Embracing digital change is no longer optional: it's essential for survival.  Fortunately, the transformation process isn't painful, with new technologies which are easy to deploy, and which offer the potential to transform the experience of your customers and enhance the wellbeing of your trusted team.
Connecting you to the modern world
Since our conception back in 2005, at Vostron we have operated under a series of predetermined guiding principles: agility, people, and approachability. With those principles adopted wholeheartedly throughout everything that we do, along with our progressive approach in helping our clients to achieve their business goals in the most cost-effective and secure way possible, we are proud to say that we have earned the trust of a loyal customer base across the UK from our home in Southampton. Please don't hesitate to get in contact to find out how we can help you!