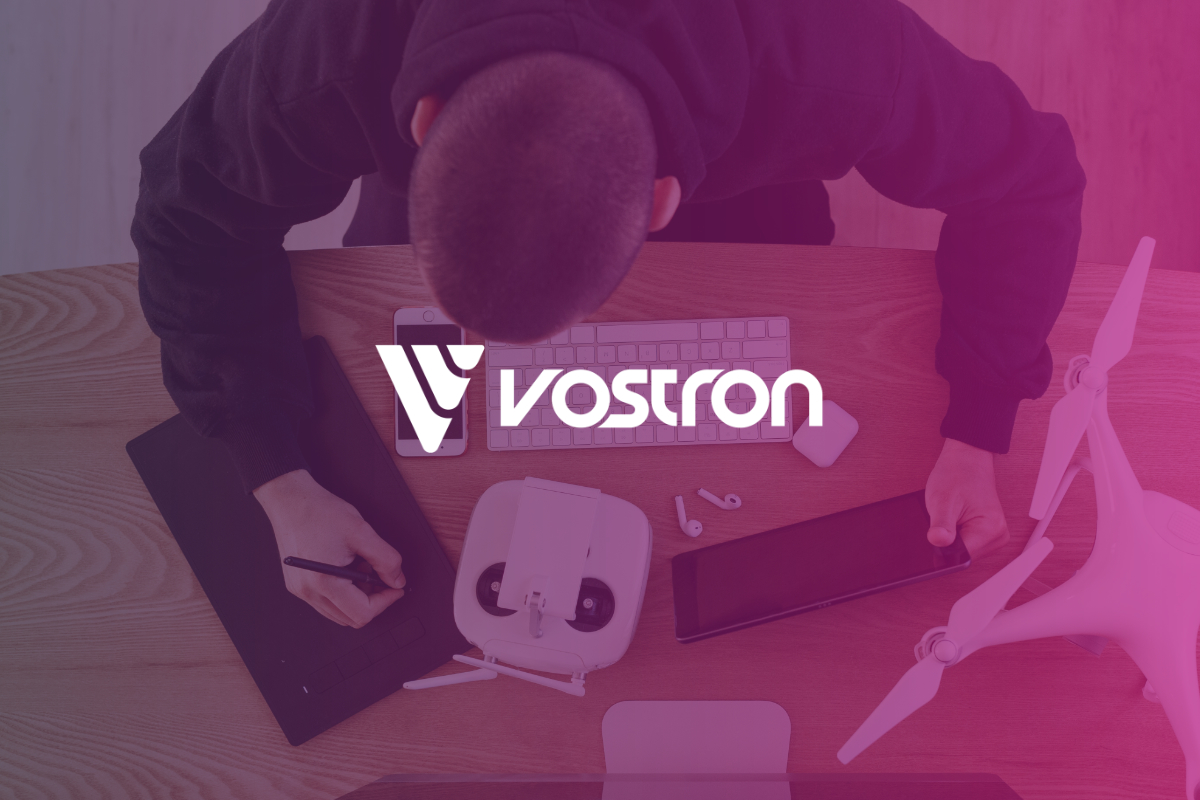 08 Oct

Windows 11: 6 Key Updates to Know

Posted at 14:59h

in

Blogs

Windows 11 is the latest iteration of Microsoft's illustrious Windows operating system. Launched in October 2021, the system builds on the success of Windows 10, while incorporating new features and capabilities that are designed with the modern world of work in mind.  

While Windows 11 has been around for roughly 2 years at this stage, only around a third of businesses have made transition to the new system. This leaves the majority of businesses in the dark about the changes that Windows 11 brings, and some of the features that promise to deliver a more fluid and intuitive end user experience.  

Given that support for Windows 10 is ending almost exactly two years from now, we thought this would be an ideal time to point out what's new and improved in the world of Windows, so that you know what to expect when you make the transition to the new OS. Here are 6 of the biggest changes in Windows 11 that you should be aware of. 

 
A Simplified, Softer Aesthetic
Windows 11 is undeniably more aesthetically appealing than its predecessor. The first thing you'll notice is an air of minimalism, and perhaps a hint of Apple design language in the taskbar. There are also softer graphical edges, a pastel-dominated colour palette, and icons, fonts and sounds carefully curated to foster a sense of 'calm and ease' – according to Microsoft anyway. 
Windows 11 sees a return to tradition, with the taskbar and start menu replacing the irksome tiles that date back to Windows 8. Plus, the addition of a new widget feed and snap layout, results in a vastly improved experience when running multiple applications at the same time. 
'Productivity, creativity and ease' are cited as the main objectives of the redesign. We'd concede that they've certainly achieved these aims on the design front.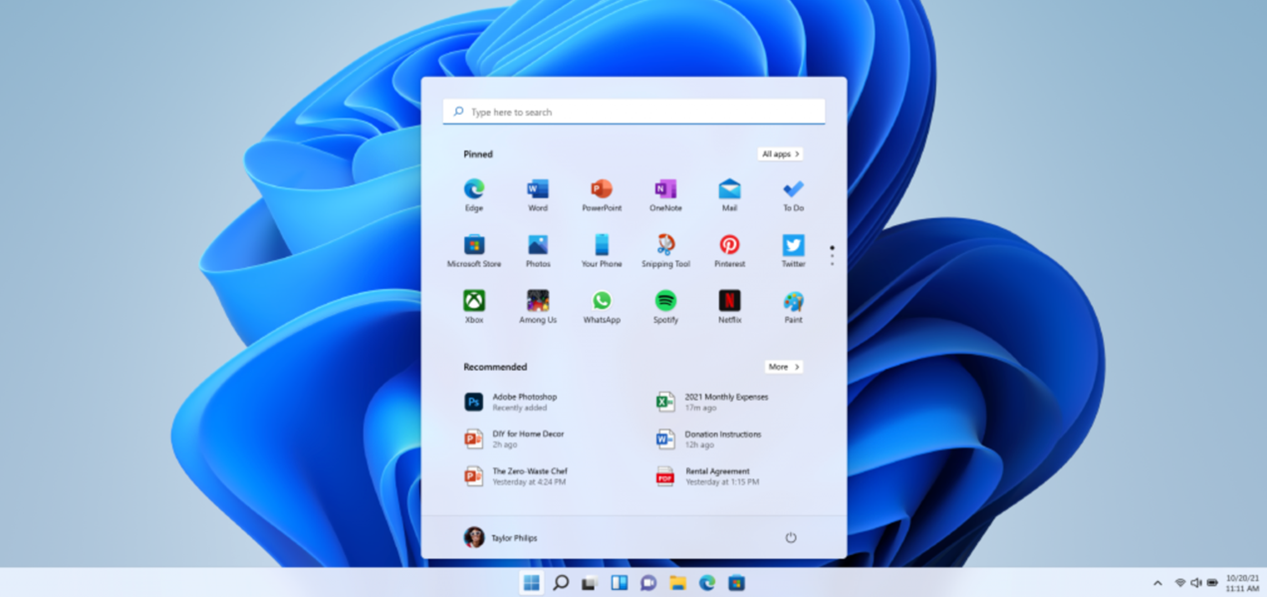 Microsoft Teams is Given a Dedicated Taskbar Icon
When the development of Windows 11 was being concluded, the world was grappling with the worst global pandemic in living memory. This forced millions of us to work from home and led to a meteoric rise in the popularity of cloud-based collaboration platforms like Microsoft Teams.  
It's no surprise then, to see that Teams has been given prime real estate in the form of a dedicated taskbar icon. The 'chat with Microsoft Teams' feature allows users to initiate conversation with personal contacts in just a couple of clicks, with support for chat, SMS, video and audio meetings.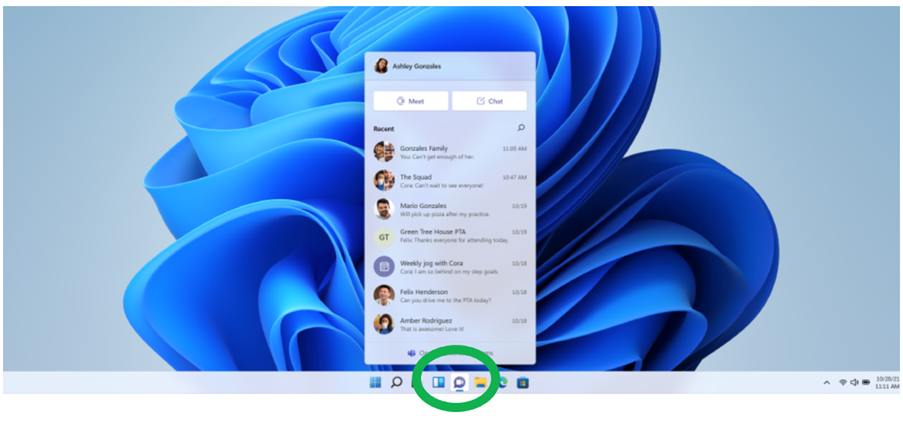 Widgets Find a New Home
Widgets are small, convenient, miniaturised applications that provide enough information or functionality to allow users to avoid opening full-scale applications or web pages. 
A key feature of smartphones, widgets are nothing new. They can even be found as far back as Windows Vista, which was launched in 2007. 
What is new is how widgets are presented. Windows 10 allowed users to launch widgets individually, but they weren't grouped together in a centralised feed for easy viewing. Now, Widgets are arranged in a dedicated, AI-curated panel that can be accessed through the taskbar. Users can customise this panel as their preferences dictate, with the ability to add and remove widgets, and resize for optimum readability.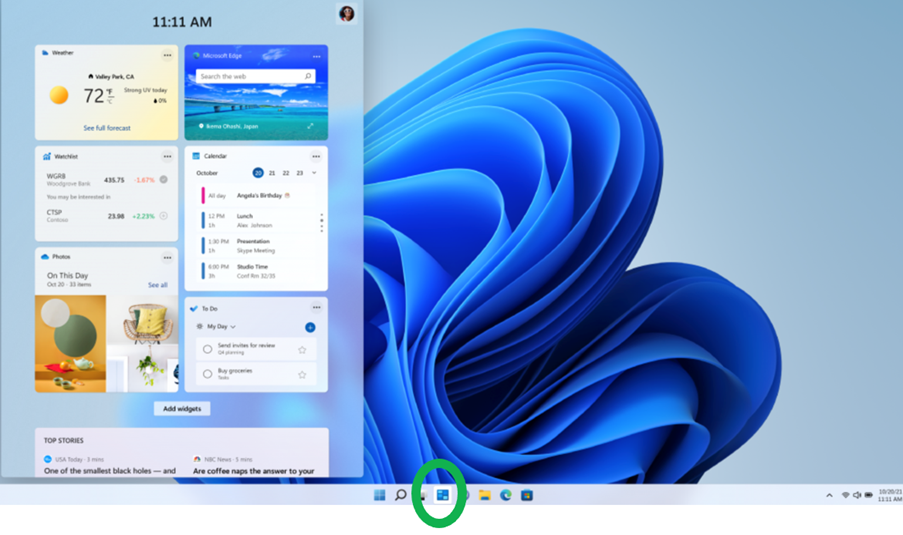 Support for Android Apps
In what's been heralded as a revelation by some, Windows 11 provides support for Android Apps: a first for a Windows operating system. This is delivered through partnerships with Amazon and Intel, which has been made possible with the use of 'Intel Bridge' technology. Through integration between the Microsoft Store and the Amazon Appstore, users can now search for their favourite android apps and launch them on a big-screen desktop display. 
Moreover, the Microsoft Store provides more content than ever before, giving users access to security-vetted applications, web content, games, movies and much more, via a single, easy-to-use interface.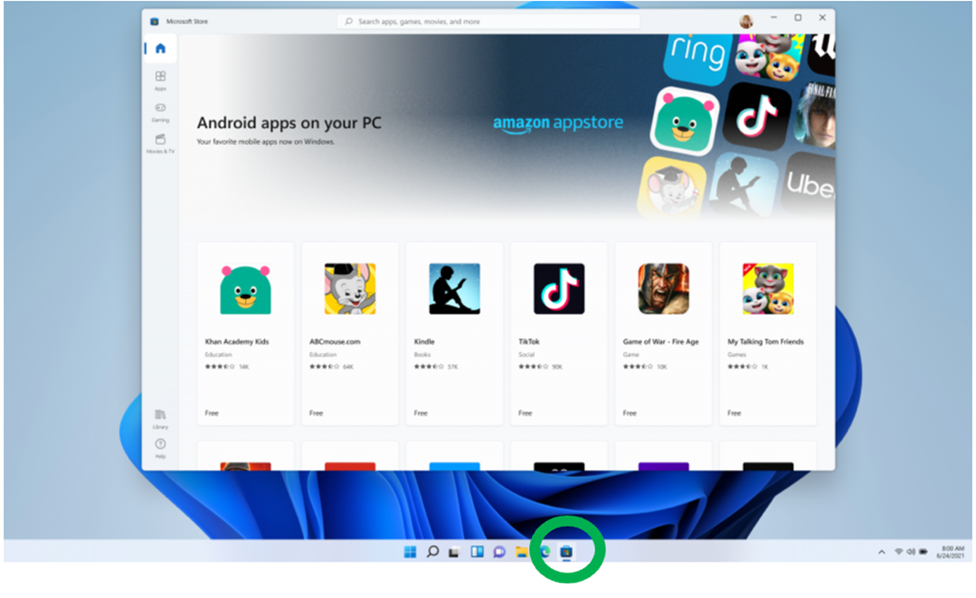 Enhanced Touchscreen Ergonomics
In recognition of the growing number of touchscreen users, Windows 11 brings a host of changes that claim to enhance the touch experience. Tablet users benefit from better spaced taskbar icons, while expanded touch targets make moving and resizing Windows a less fiddly and delicate operation. New gesture controls also provide a smoother experience when transitioning between windows, menus and virtual desktops. 
Snap Layouts
Windows has always led the way when it comes to sizing, configuring and arranging application windows. Even the most ardent of Apple devotees will be the first to admit that Mac OS falls short in this regard. In Windows 11, Microsoft moves the game on further, with its latest innovation: snap layouts. 
Snap layouts can be utilised by hovering the mouse over an application window's 'maximise' button when using a mouse. This will display a range of window layout options, which users can fill with an assortment of applications of their choosing. Every created layout is then captured for future use, accessible via the taskbar as a saved group. This allows you to leave a task temporarily and return to find the app configuration that you were using just as you had left it.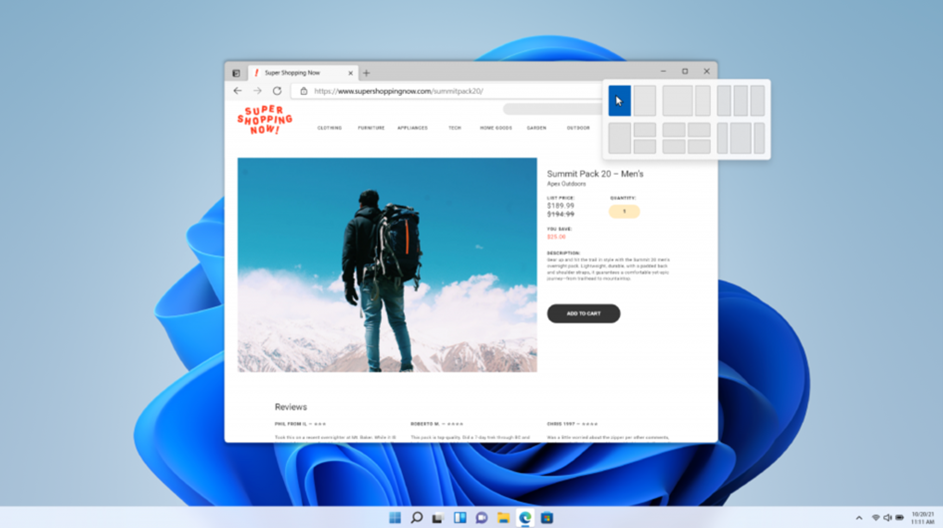 In Summary
At just two years old, Windows 11 is already proving itself an invaluable business tool, featuring capabilities and design changes that were sorely absent in previous iterations of Windows. New productivity features and a host of interface enhancements combine to deliver a slick, simplified user experience that delivers on Microsoft's commitment to productivity, creativity and ease-of-use. 
What's more, users can expect further changes and new features in the coming years, as Microsoft continues to augment Windows 11 throughout its mainstream support phase. Feature updates for Windows 10 on the other hand, have long been discontinued. 
If you're keen to make the transition to Windows 11 ahead of the Windows 10 end of life deadline, or you'd just like to discuss your options moving forward, get in touch with Vostron today. Together, we can ensure your business benefits from up-to-date, fully supported infrastructure, that keeps your data secure and supports workplace productivity.