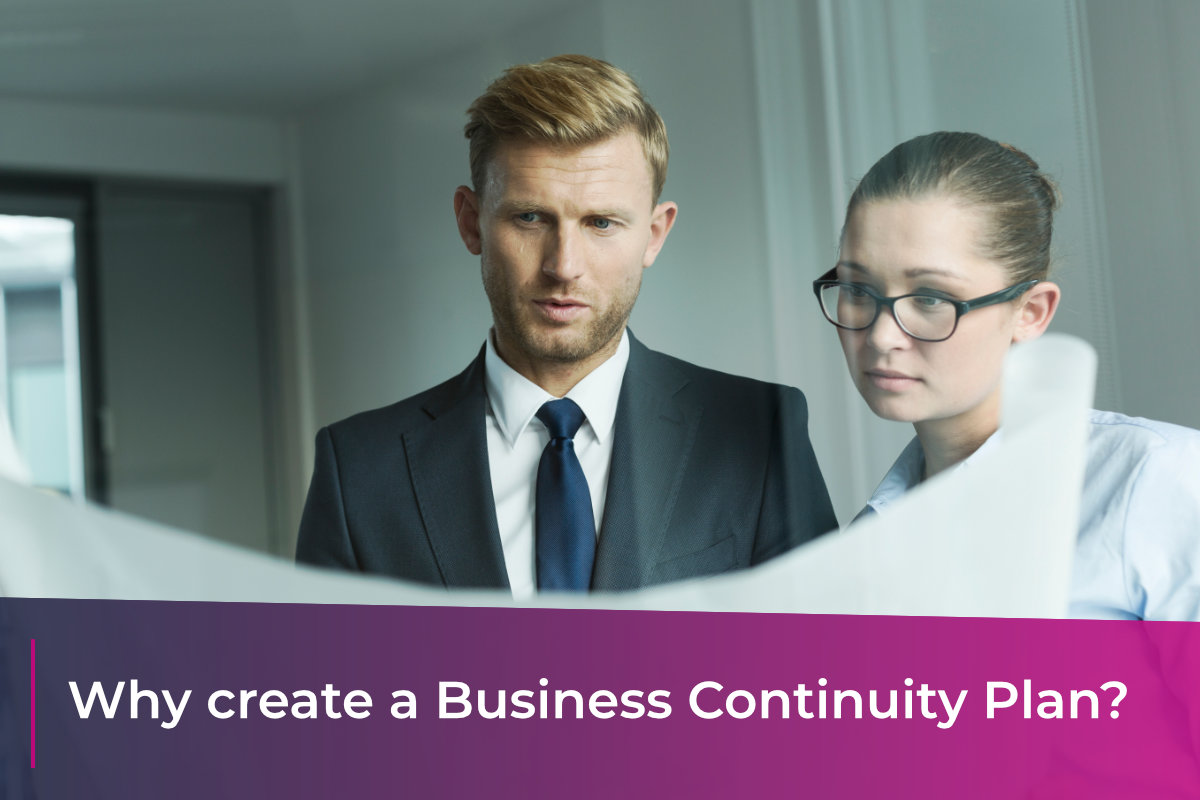 08 Jun

Why create a Business Continuity Plan?

The workplace is unpredictable. Our workplaces are becoming increasingly online, and with this growing presence comes a rising risk of cyber attacks. Unfortunately, some of us consider ourselves more technically able than we actually are, and some don't behave accordingly when navigating websites, Emails, and other places online, leaving themselves open to a wide array of potentially business debilitating cyber attacks.

It is these threats that make a Business Continuity Plan so important, along with natural disasters like fires or floods. You must have a plan – a plan with a set of procedures for you and your team to follow when disaster strikes.

We don't know when disaster may hit. There are the odd occasions when the signs are apparent or warnings are noticed, but cyber attacks, in particular, are usually conducted in the shadows until the time to strike arrives. Every disaster is different, so your plan needs to be thorough.

If you want your organisation to survive and thrive even during a disaster, then a plan needs to be created, implemented, and assessed with your team, because this is the only way to ensure every part of your business can continue running at a level of efficiency that is adequate.

The consequences of not having one could mean not just business defining problems but the end of your organisation all together.
What is business continuity?
Business continuity is the process of quickly resuming business functions in the eventuality of a serious disruption. It doesn't matter what the disruption is; whether it is, for example, a flood, a fire, or because of cyber criminality.
A Business Continuity Plan outlines the exact procedures and instructions an organisation must follow in the eventuality of such a disaster. It must cover every part of your organisation, and your entire workforce must know their individual roles in the procedure, in order that, ideally, every department will be able to continue working with little to no change to their daily activities.
Many think that both a disaster recovery plan (DR) and a Business Continuity Plan (BC) are the same thing, but a DR plan is constructed with the restoration of infrastructure in mind. If anything, your disaster recovery plan is a close addition to your Business Continuity Plan, but disaster recovery is just as essential as business continuity because if you can keep essential systems ready to reboot then you will be back to 100% efficiency asap.
Ask yourself questions, some of which will be uncomfortable – can you get manufacturing, sales, and support up and running so the company can continue to operate post disaster? What happens if the roof leaks (soaking everything, breaking computer systems) – will those staff members have an opportunity to work elsewhere (perhaps from home, perhaps in another room), and is that room able to offer a satisfactory connection? It sounds complicated but the more avenues you go down, the more prepared you will be.
An important – and often overlooked – part of your BC plan is the Business Impact Analysis section (BIA). The BIA quantifies the impact of a sudden loss of business functions – such analysis will give you the insight to make some key decisions: many ask themselves questions such as whether they should outsource non-core activities in their BC plan? The BIA section inadvertently breaks your organisation down into a value offering, allowing you to prioritise.
Anatomy of a Business Continuity Plan
When you are starting from scratch, begin by assessing your business processes and determine which areas of those processes are more vulnerable than others, then work out the loss that could occur if that part of the work process remains out of action for too long.
Next, develop a plan. This involves six general steps:
Identify the scope of the plan – How far are you going to go? It makes sense to be as comprehensive as possible as there is no point in choosing an area of the business to concentrate on, then later down the line discovering that another part of your business effects that plan and you have to change it again.
Identify key business areas – The cross over points in particular; the points where Sales and Manufacturing overlap, for example.
Identify critical functions. Which processes are essential to the operation of your business?
Identify dependencies between various business areas and functions – If you know how large the reliance is then you also know how important it is to get back up and running.
Determine acceptable downtime for each part of the business – Some, of course, will be practically zero because no downtime is acceptable, but others can be lived without for days.
Create a plan to maintain operations. What procedures do you need in place in order to continue in business?
We recommend using a checklist containing supplies and equipment, where the plan is and who is the owner of it, the location – either on premise or in the Cloud – of data backups, and contact info for emergency responders, key personnel and suppliers who can help.
As part of your Business Continuity Plan, you should also make a disaster recovery plan (as we said earlier). You probably have something in place already, as few have left themselves teetering so close to disaster with nothing to back them, but you must check it is fully capable, as you need to guarantee restoration times and be sure that it aligns with your business needs.
But don't worry, you don't have to do this alone – your team are skilled, so communicate with them because they know the intricate details of your system and they know which parts need a firm or soft touch. For many, once you get them talking they will thrive with that opportunity to talk, they will tell you the times they went wrong, and the times they fixed any issues – in time, this insight could be invaluable to you.
In our following article we will outline a checklist for you to follow, by the end of which you will be capable of preparing a good Business Continuity Plan. If you have any doubts or concerns, then contact our team and let us help you ensure you can continue working, whatever the circumstances.
Connecting you to the modern world
Since our conception back in 2005, at Vostron we have operated under a series of predetermined guiding principles: agility, people, and approachability. With those principles adopted wholeheartedly throughout everything that we do, along with our progressive approach in helping our clients to achieve their business goals in the most cost-effective and secure way possible, we are proud to say that we have earned the trust of a loyal customer base across the UK from our home in Southampton. Please don't hesitate to get in contact to find out how we can help you!